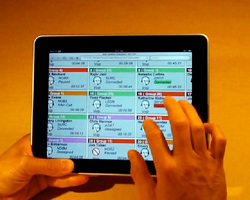 Web-based contact center management and tracking software available for use on Apple iPad and other mobile web-enabled devices
Atlanta, GA (PRWEB) September 8, 2010
Noble Systems Corporation, a global leader in innovative contact center technology solutions, today announced the availability of mobile-friendly contact center management applications for the Apple iPad and other mobile devices. Designed as part of an ongoing development effort aimed at reducing dependence on office infrastructure and empowering remote and mobile management, the applications allow users to view campaigns and interact with agents from a variety of mobile devices, so that managers and supervisors can get out from behind their desks and back on the call center floor.
"We believe the future of contact center management will bring even greater reliance on mobile tools and real-time access to data regardless of location," says Chris Hodges, Senior Vice President of Sales for Noble Systems. "That is why we are arming our customers with the latest innovations in mobile functionality – to keep them ahead of the curve and operating at maximum efficiency."
View a video demonstration of the software in use on an Apple iPad. The applications will soon be available to Noble Systems clients as part of the Noble suite of contact center solutions.
About Noble Systems®
Noble Systems Corporation is a global leader in contact center technology solutions, providing innovative products since 1989. Tens of thousands of agents at 4,000+ client installations worldwide conduct business using the award-winning Noble® platforms for inbound/outbound/blended communications. The scalable, integrated Noble solutions include advanced ACD and predictive dialing; unified contact processing for voice, email, and web; and integrated IVR, digital recording, messaging, quality control/monitoring systems, scripting, and real-time reporting and management tools. Based in Atlanta, GA, Noble was the first vendor to offer an open, scalable, fully-distributed platform. For more information, contact Lee Allum at 1.888.866.2538 x538 or visit http://www.noblesys.com.
# # #