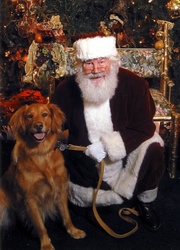 Our Santas have to look like Santa, their beards have to be real and their mustaches fluffy
DENVER (PRWEB) October 29, 2008
Christmas may come once a year, but preparations for the holiday season are year-round at The Noerr Programs Corporation, a digital event imaging services company west of Denver. Holiday preparations include training for 225 Santas who will appear in 165 shopping malls in 37 states beginning in early November.
Santas learn how to smile for the camera, brush up on the latest toys and quiet crying babies. The three-day course, offered to the newest of Santa's helpers and jolly old elves who have been welcoming children onto their laps for a dozen years, reminds Santas to wear white gloves, know when to ho ho ho — don't do it with a baby on your lap — and "never promise a child anything you can't deliver."
Judy Noerr, who founded the company 25 years ago, and her husband and business partner Philip Byrne, are tireless in their mission to provide magical moments for children and families coming to visit Santa and have their photos taken with him.
"Our Santas have to look like Santa, their beards have to be real and their mustaches fluffy," said Judy, "but the most important part is how much they care about children and the size of their hearts."
Santa Ernie, who has been a Santa for The Noerr Programs for more than 14 years, relates stories of touching moments of being Santa, including annually being visited by a brother and sister who share an inherited disease that limits their life spans. Every year Santa Ernie returns to his big chair in the mall, and is thankful when they come to visit him.
"Being Santa Claus is a calling," said Santa Ernie. "I love the children; I love seeing their wide-eyed wonder in talking to Santa. I've been doing this a long time, and it's the happiness of the children that keeps me coming back."
Santa, after all, is a saint. Tradition says that the origin of Santa was with Saint Nicholas, a 4th century Greek Christian bishop who was famous for his generous gifts to the poor. Current day Santas who work with The Noerr Programs are also generous, participating in local charitable events, working with children who have special needs and making trips to visit sick children.
Santas see about 10,000 children a season, from the first week in November to the day before Christmas. The Santas work to make sure each child is made to feel special. In addition to the children, Santas see pets during specially organized Noerr Pet Nights with Santa™.
"I have posed with horses, kittens, dogs of all shapes and sizes, lizards and even horses," said Santa Dan, an 11-year Santa with Noerr.
In addition to finding Santas, The Noerr Programs hires more than 165 set managers and 2,000 seasonal cast members during the holiday season. For Noerr job opportunities across the U.S. and a list of mall locations served at Christmas time by Noerr Programs, see http://www.NoerrPrograms.com.
MULTIMEDIA GALLERY http://www.businesswire.com/cgi-bin/mmg.cgi?eid=5816309