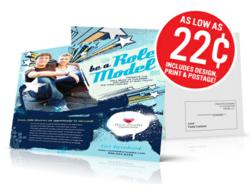 By providing a simple web-based solution we've now enabled non-profits to reach more people for less.
Richmond, Virginia (PRWEB) November 15, 2012
Taradel LLC announced today the launch of a Non-Profit Every Door Direct Mail™ solution. The move enables non-profit organizations (with a qualifying USPS® Non-Profit Authorization Number) to reach prospective supporters for as low as twenty-two cents per home. The discounted rates include design templates, full-color printing, mail preparation services and documentation processing, and the postage for each mail piece.
NPOs can now launch targeted direct mail fundraising campaigns, in ten minutes or less, via the Taradel-powered EveryDoorDirectMail.com website. The website drastically improves accessibility as NPOs are not permitted to launch EDDM™ Retail campaigns at local USPS® locations -- all non-profit rate mail must deliver to a BMEU.
In short, the solution takes a traditionally complex process (direct mail), and makes it an exceedingly simple process for non-profit advertisers of all experience levels. The solution eliminates all end-user paperwork requirements, trip to the Post Office®, and potential for printing errors or incorrect formatting.
Taradel founder and CEO, Jim Fitzgerald, noted that, "We're thrilled to be in a position to really help NPOs reach their local audience quickly and more efficiently than ever. In this economy raising funds is difficult enough. By providing a simple web-based solution we've now enabled non-profits to reach more people for less."
According to the USPS® publication, Deliver® Magazine, non-profit direct mail played a critical role in fundraising efforts during the 2010 Gulf Coast Oil Spill.
The National Wildlife Federation (NWF) acted quickly in response to the Gulf Coast oil spill, organizing and launching a direct mail campaign, of 846,000 pieces, to prospective supporters.
The campaign delivered quickly and helped the NWF generate an incredible 2.5% response rate to assist with crisis response and cleanup operations at the ground level.
For more information on non-profit direct mail fundraising campaigns, visit http://www.everydoordirectmail.com/non-profit-eddm
Follow Taradel on Twitter @TaradelPrinting and at Facebook.com/TaradelLLC