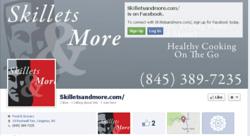 Healthy DEEP FRYING starts with using the right equipment!
Kingston, NY (PRWEB) March 27, 2013
SkilletsAndMore.Com known for its deep frying and grilling equipment is offering free advertising space to individuals and corporations looking to support a nonprofit organization. For many people, spring is a time to clean out and organize their attics and garages. Spring is also the time for many business owners to file their taxes and purchase new equipment. Solution: Advertise a raffle or auction during the month of April on SkilletsAndMore.Com and donate the proceeds to a non profit charity while increasing traffic to one's own business website.
Money is not just the most important asset of any business. Money is their life line. Without it, they simply can't function. It therefore makes no sense to ask them to give till it hurts. Most businesses, even during good economic times, operate on very narrow profit margins. However, an auction or raffle often generates more money than even a generous donation of money or the giving away of equipment. Auctions often generate a lot of money because they create a sense of competition among buyers. A raffle is another way of generating a fantastic amount of money quickly because each person participating in the raffle is willing to risk loosing a small amount of money for a substantial gain.
Just about every business needs to purchase new equipment from time to time in order to remain competitive which means they need to get rid of their outdated equipment. A rent a car company, for example, must update its fleet of cars or risk gaining a bad reputation and customer dissatisfaction. This is a fantastic opportunity for such a company to raise awareness and money for a particular cause like the American Cancer Society while increasing traffic to their business website.
The rules are simple. Advertise an auction or raffle, provide the name of the charity and then place a link back to the company sponsoring the fund raising event so that people can learn the details. A well written advertisement on a high traffic business website can bring in thousands of dollars more than a generous one time donation.
Any business, nonprofit organization or individual interested in advertising charity auction or raffle should send their information to skilletsandmore(at)gmail(dot)com by March 29.