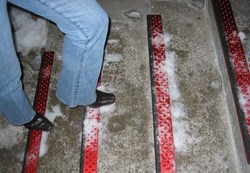 The Handi-Treads product line has become extremely popular due to this year's unusually harsh winter
Libertyville, IL (PRWEB) January 29, 2009
Handi-Ramp has expanded their Handi-Treads™ non-slip tread product line to include an easy to install non-skid stair nosing. "The Handi-Treads product line has become extremely popular due to this year's unusually harsh winter," said Jeff Mann, Handi-Ramp's sales manager. "Property managers, homeowners and even the Federal Government have installed thousands of Handi-Treads™ as a way to reduce the risk of slips and falls due to ice and snow. Everyone is concerned about safety and the risk of a lawsuit. The popularity of these nonskid treads is driven by three factors: 1) They are very easy to install, 2) They work on virtually any surface including stairs, ramps, decks, walkways and bridges, and 3) They are much more effective and lower in cost than traditional non skid tape and non-slip paint products."
According the National Safety Council, "over one million people experienced a significant slip or fall in 2008, accounting for the number two cause of accidental death and disability behind automobile accidents." Often times, the front edge of a stair can be the most unsafe. These stair nosings provide maximum non slip protection over the front of the step ensuring solid footing. A strip of long-lasting, non-skid tape keeps the edges of the nosing, and your step, slip free. A single Handi-Tread can be installed in under two minutes and drastically reducing the risk of injury from falling on slippery surfaces.
"The average slip and fall can cost an estimated $28,000 including medical bills, physical therapy and missed wages," said a spokesperson for the Bureau of Labor. Handi-Treads™ increase safety and save you money while existing products such as non-skid adhesive tape or paint offer limited effectiveness and can peel-off or wear-out in a few months.
The superintendent of a large state park in Illinois was concerned about the slippery steps and walkways throughout the wet and winter seasons. Upon installing Handi-Ramp's Handi-Treads™ non-slip treads and stair nosings, the walkways became safer and injury reports decreased. Management feels that "it was a wise and sound investment made for the benefit of their guests."
Featuring a lifetime warranty, these inexpensive, easy to install, non-slip treads provide superior traction and permanent protection against water, ice, snow and sand on stairs, decks, porches, ramps, walkways and other potentially hazardous surfaces. Coming in ten (10) vibrant anodized colors and in four (4) standard sizes, Handi-Treads™ can also be custom-manufactured to fit your specific needs. Prices range from $6.95 to $16.95, depending upon size. A free sample of the non-slip tread material can be requested via the Handi-Ramp non-slip tread products website http://www.HandiTreads.com.
About Handi-Ramp
Handi-Ramp of Libertyville, IL has been designing and manufacturing ramps, lifts and other accessibility solutions for wheelchairs, pedestrians and rolling equipment since 1958. The company's ramps are used by governmental agencies, schools, churches, hotels and other public and commercial facilities to meet ADA requirements and for a wide range of industrial and private residential purposes. For more information, visit http://www.handiramp.com or call 800-876-7267.
###