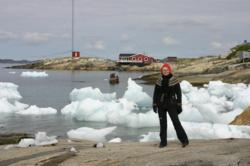 This is an important new feature on our website that will help our travelers get the best out of their stay in Greenland.
Reykjavik, Iceland (PRWEB) May 24, 2012
For many of us, our knowledge of Greenland can be boiled down to the popular saying, "Iceland is green and Greenland is ice." But thankfully for curious travelers, Icelandic travel agency Nordic Visitor is helping to demystify this Arctic island—and show that there's much more than ice—with its new Greenland Travel Guide.
Travelers can now find information about Greenland's unique regions and towns as well as practical advice for travelling in Greenland like what to expect with the weather and what to bring for a comfortable trip. What's more, the contents of the new guide are based on the personal experiences of the company's local travel experts, who make regular trips to visit with suppliers in Greenland.
"As a developing tourist destination, it can be difficult to find good, sensible travel tips for Greenland," explained Nordic Visitor CEO Ásberg Jónsson, "so people have a lot of questions about the climate, accommodations, things to do and general way of life there. This is an important new feature on our website that will help our travelers get the most out of their stay in Greenland."
Greenland is best known for its massive ice cap—a popular subject in climate change research—and for its deep-rooted traditions of the native Inuit people. No longer exclusive to scientists or extreme sports enthusiasts, this autonomous territory of Denmark is now attracting ordinary travelers who crave an off-the-beaten path experience in a land largely untouched by commercialism.
Nordic Visitor offers a variety of tours in Greenland, with varying seasons, durations, destinations, activity levels and special interests—like the northern lights. Accommodation is included in all packages, and itineraries can be tailored to customers' wishes, such as extra nights or excursions. And since flights to Greenland originate in either Iceland or Denmark, packages in Greenland are often combined with other Nordic Visitor packages in these countries.
For more information about vacation packages in Greenland or other Nordic destinations, please visit http://www.nordicvisitor.com
About Nordic Visitor: With offices in Iceland and Sweden, Nordic Visitor is a fully-licensed travel agency and DMC that delivers unforgettable travel experiences in the Nordic countries. Staffed exclusively by local travel experts, Nordic Visitor specializes in tailor-made itineraries that cater to customers' needs and interests. Vacation packages include self-drive holidays, city breaks, luxury getaways, honeymoons, adventure tours, fjord cruises, railway journeys and much more.