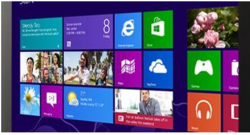 We just installed it on an older Windows XP build and it just did wonders for speed, security and entertainment
Norfolk, VA (PRWEB) November 17, 2012
Computer Command expands service capability by offering customers seamless transition to newest Microsoft Operating System. The Norfolk Computer Repair specialist can back up all old customer data, perform the upgrade, test operations and ultimately provide a user back up for the new Operating System. Ron Frary, Computer Command Service Manager, stated "We are excited about this new operating system and highly recommend it for all computers that meet the minimum requirements. We just installed it on an older Windows XP build and it just did wonders for speed, security and entertainment. "
What is new about Windows 8? There are so many it's hard to know where to begin. Internet Explorer 10 has a new look with the address bar at the bottom and a slick full screen interface. Apps, windows now has an App store where you can purchase and download free apps, Can you say Angry Birds? If you purchase the Pro (Frary's recommendations) you will get a free (for a limited Time) windows Media Center add on. You also get Bitlocker, for encrypting your data, to make your data private and safe. In addition SkyDrive is included which gives you 7 gigabytes of space in the cloud at no cost."
"For many the biggest advantage is upgrading to a new Start menu that doesn't have a button in the system tray. You just hover over the left bottom corner and it pops up. This new menu is full screen but it is fully customizable. The user doesn't have to scroll to programs and open folders they can arrange the applications as they wish to make everything more efficient. The desktop is still there with whatever shortcuts you like. Microsoft seems to be moving away from using the desktop buts it's still there if you prefer starting applications from it."
In addition to the Windows 8 upgrade, Computer Command offers the following technical services- all performed by Comp TIA A+ Certified Technicians:
LCD Screen Repair/Replacement
Power Jack Repair
Operating System Restoration
Memory Upgrades
Hardware Installation, Repair, and Replacement
Data Transfer
Performance Enhancements
PC Tune-ups
Data Backup
Computer Command was founded in 2009 and had been located in the Wards Corner Area of Norfolk. Customer note: there is no signage relating to Computer Command- the service center is wholly located within the Exchange USA Facility. The Store is located between Radio Shack and Family Dollar.
Company Information:
Exchange USA is based in the newly revamped East Beach Shopping Center at the corner of Shore Drive and East Little Creek Road. Offering consumer and military financing on lifestyle products and travel, Exchange USA was founded in 2009 and is has quickly become a local market leader. Located at 4039 E Little Creek Rd., the company can be reached at 757-695-3388 or through their website at http://www.myexchangestore.com. Computer Command can be reached at 757-389-7260 or through the web at http://www.pccommand.com.