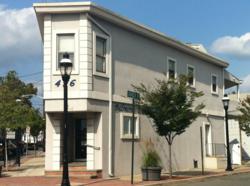 I joined the ITI because it is not only a close-knit community that includes the leaders in the field of implant dentistry, but it also fosters evidence-based education at the international, national, and local level. - Dr Michael Jaffin
North Haledon, NJ (PRWEB) March 20, 2013
Recently, Belmont Dental (http://www.belmontassociatesnj.com) welcomed Dr. Michael Jaffin to their team in an effort to fight periodontal disease alongside Dr. Lembo. Jaffin's several years of experience treating periodontal disease and surgically placing dental implants has made him a welcome addition to the staff. While Jaffin's fight against the painful dental disease continues at Belmont Dental, his expertise has now earned him a place in the International Team For Implantology.
For the last 33 years, the ITI has been leading academic organization with members spanning all across the globe who are dedicated to education and research in the implant dentistry field. During their annual meeting, the ITI announced that Dr. Michael Jaffin has become the team's 15,000th member. The milestone has made the organization the largest international implant dentistry association in the world. Jaffin was pleased to be a part of the milestone and looks forward to working further with the organization. During the reception in Tampa, Florida Jaffin stated: "I joined the ITI because it is not only a close-knit community that includes the leaders in the field of implant dentistry, but it also fosters evidence-based education at the international, national, and local level."
Belmont Dental's marketing and business leads partner, Route 72 Systems, considers this a big win for Belmont Dental and their practice and is eager to spread the word about Jaffin's historic membership into the ITI throughout the Internet marketplace. Route 72 is confident that this will raise many eyebrows amongst the online community. Founder and CEO of Route 72 Systems, Jim Alamia, states: "An event such as this will make Belmont Dental stand out amongst their colleagues in the dental arena. Adding Jaffin to their staff has given them a perfect niche that online customers will appreciate when researching for dentists in their area."
Cosmetic and family Dentist Dominic A Lembo "Dr. Lembo Haledon NJ" practices a full scope of general and cosmetic dentistry with expertise ranging from porcelain veneers to dental implants, crowns and bridges. Dr Lembo can now correct a wide variety of so-called permanent cosmetic dental problems, and can literally redesign your smile.
Our office is located at 476 Belmont Ave, Haledon, NJ. Call us at 973-790-4494
Reference to ITI Article;
http://www.iti.org/?a=1&t=88&y=3003&r=0&n=108&i=0&c=20&v=page&o=&s