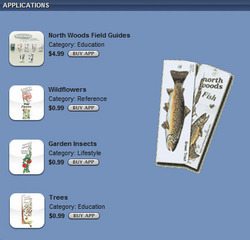 These educational nature guides are a valuable resource, providing information on various aspects of the outdoors
Wevertown, NY (PRWEB) March 28, 2009
North Woods Field Guides, Inc., based in Wevertown NY, announced this week that their informational nature guides are now available as downloadable applications on iPhone and iPod Touch.
"These educational nature guides are a valuable resource, providing information on various aspects of the outdoors," said Jeff Greco, Founder of North Woods Field Guides, Inc. who has been offering plastic versions of the guides for nearly ten years. "This transition to the iPhone app means they're now more portable and therefore more convenient than ever."
Each guide offers information on a specific category of nature, helping the user identify anything from wildflowers and different types of trees to insects, animal tracks, fish varieties and more. There are illustrations for each, along with classification information and interesting facts. Greco stresses that these field guides are useful to more than just the avid outdoorsman.
"No matter how often you're out in the wild, it's handy to have these guides at your fingertips," he said. "From the casual hiker to the nature photographer to the keen hunter, these guides are for everyone. And with their colorful illustrations, they're even great for children!"
iPhone and iPod Touch users can download the applications directly from the App Store on their device or through the iTunes program. There are currently seven electronic guides available through the App Store at just 99 cents each. These can also be purchased as a bundle of seven guides for $4.99.
For additional information, contact Jeff Greco at (518) 251-0818, or visit North Woods Field Guides online at http://www.northwoodsguides.com/
About North Woods Field Guides, Inc.:
Based in Wevertown, NY, North Woods Field Guides, Inc. offers compact and lightweight field guides featuring various aspects of the outdoors, specific to North American nature and wildlife. Owner Jeff Greco has been distributing plastic, pocket-sized nature guides for nearly ten years in the Adirondacks and throughout North America. Now the guides are also available as apps for iPhone and iPod Touch.
###