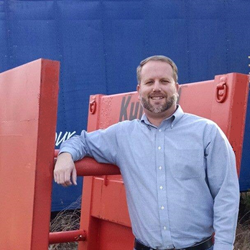 We are excited to have been even a small part of the overall work and opening of the orphanage. We are going to continue to support their mission for the foreseeable future.
BURLINGTON, N.C. (PRWEB) October 30, 2018
The first of its kind special needs orphanage, Casa Providencia, has been opened in Panama, and a North Carolina business has played a key role. Since 2015, Iron Lot, LLC, a construction safety equipment company in Burlington, has been donating a percentage of their product sales to help build the orphanage.
Iron Lot sells aluminum and steel trench boxes to customers across the U.S. In 2015, owner Mike Campbell was moved to support the building of Casa Providencia, which is run by Heart's Cry Children's Ministry.
Campbell's wife Jenny has a strong connection to Heart's Cry through her cousin Misty Hedspeth. In 2008, Hedspeth and her husband, Matt, traveled to Panama to begin the process of adopting a child. While in Panama, the Hedspeths were so moved by what they saw there that they quit their jobs, sold their home, and moved to Panama to create Heart's Cry.
The connection between Iron Lot and Heart's Cry is faith-based. Campbell says that God gave him both the vision and the willingness to use part of the company's profits to support Heart's Cry. "We are excited to have been even a small part of the overall work and opening of the orphanage. We are going to continue to support their mission for the foreseeable future."
In fact, since Campbell made that decision three years ago, every time a customer has purchased a trench box or any of the products Iron Lot sells (bedding boxes, road plates, or used construction equipment) a donation has been made.
Casa Providencia, or Providence House, is a first-class facility whose goal is to connect special needs children with forever families and to offer those children physical, mental, speech, and occupational therapy. The facility is opening in three phases. In the first phase, the orphanage will house 15 children and provide a hydrotherapy center, physical and occupational therapy, a medical clinic, and both indoor and outdoor playgrounds.
During Phase 2, Casa Providencia will house an additional 15 children and a learning center, therapy pool, and rooftop terrace will be added. When Phase 3 is realized, a total of 55 children will be housed in the orphanage and vocational training and a mentoring program will round out the service offerings. As the phases are realized, the cost per child will drop from $122 per day in Phase 1 to $52 per day at full capacity.
Campbell and his family have had the opportunity to see the results of their donations first hand. Over the summer, they travelled to Panama. "We took our kids to Panama to visit their cousins and were blessed to get to meet some of the first kids at the new orphanage."
In addition to the new orphanage, the Christian-based Hearth's Cry has two initiatives – Family Services and Orphan Cares. The Family Services program provides free adoption and foster care services to families in Panama to care for Panamanian orphans. Orphan Cares is an umbrella program for Heart's Cry projects that occur throughout the year, such as baby holding programs, hosting international mission teams, and providing financial aid.
Read more about the Iron Lot & Heart's Cry connection at http://www.ironlot.com/hearts-cry/. Visit Heart's Cry Children's Ministry at http://www.heartscrychildren.com.
Learn more about Iron Lot products and services at http://www.ironlot.com.
About Iron Lot, LLC
Iron Lot, LLC is a family-owned business headed by Mike Campbell. Founded in 2007 as an equipment brokerage service, Iron Lot has evolved to sell construction safety equipment like trench boxes as well as a global exporter of used construction equipment. Headquartered in Burlington, NC, the company has distribution points for some of our products throughout the US. For more information visit ironlot.com or call 336-516-8011.
About Heart's Cry Children's Ministry
Heart's Cry Children's Ministry was founded in 2008 in the Republic of Panama by Americans Matt and Misty Hedspeth. The faith-based orphans care ministry has a three-fold mission: Orphan Cares, Family Services, and the new Casa Providencia. Learn more about the programs and projects of Heart's Cry Children's Ministry at heartscrychildren.com.