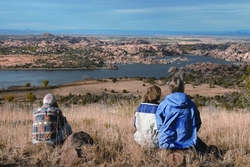 but the winter season is when the interest in our ranch properties really peaks.
Prescott, AZ (PRWEB) March 23, 2010
Arizona is famous for its mild winters which generally bring about an influx of "snowbirds" and tourists from the northern reaches of the country. This winter, however, the Prescott, AZ real estate market saw some increased attention as home and property prices have reached their lowest prices in years.
Prescott, Arizona sees 300 plus days of sunshine on average, which promotes winter to be the popular time for home buyers to consider purchasing homes or property in the region. When this seasonal popularity was combined with low prices, LV Ranch Estates, saw an influx of interested buyers.
"The city of Prescott is a great place to live all year round" said Peter Gooding, developer of LV Ranch Estates, "but the winter season is when the interest in our ranch properties really peaks." In anticipation of the increased interest in the northern Arizona horse property, LV Ranch Estates has increased their discounts and service offerings. Last summer saw price reductions that have extended into the New Year as well as structural and amenity upgrades that have solidified this property development as one of the best investments during the real estate downturn.
The fourth quarter of 2009 and the first quarter of 2010 have been some of the strongest in LV Ranch Estates' history. As the busy season for buying Arizona real estate draws to a close, LV Ranch Estates will be looking to build on the momentum carried over from 2009 by broadening their list of amenities, further improving the infrastructure and encouraging current and potential residents to invest in renewable resources and energies such as solar/wind power generation.
About the Company: LV Ranch Estates is a development of ranch property in Prescott, Arizona. Each available ranch parcel is a minimum of 31 acres in size, providing unspoiled views of the northern Arizona wilderness. The comforts of suburban living are seamlessly integrated through amenities such as underground power and fiber optic cables, pre-dug wells on each property, and organic roads and fences throughout the development.
For more information please visit http://www.LVRanchEstates.com or call 877-443-9818.
###