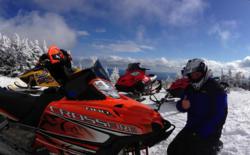 Supertrax International calls Northern Outdoors a "Snowmobiler's Paradise".
The Forks, Maine (PRWEB) March 08, 2013
Northern Outdoors, Maine's favorite Snowmobile Resort, reports that the 2013 snowmobiling season enters March peak sledding season with the best snowpack and trail conditions in five years. To celebrate the arrival of spring's longer sledding days, all Northern Outdoors lodging is 20% off.
With some of the best snowmobile trail conditions in New England, Northern Outdoors, located in The Forks, Maine, at the western corner of the state, has a lot to celebrate. The Forks has enjoyed consistent riding all season, in contrast to the tough, low snow winter of 2011-2012. Snowmobiling is a huge economic force for Maine. According to a 2012 report by the International Snowmobile Manufacturers Association, Maine is the 5th highest state in snowmobile registrations with 62,000 for the 2012 season -only the Great Lakes states have higher registrations.
Northern Outdoors is recognized as one of Maine's favorite snowmobile destinations because of its combination of trails, terrain, annual snowfall, expert & consistent grooming, onsite fuel, and resort amenities that today's increasingly savvy snowmobile consumers demand. And these consumers make a significant contribution to rural tourism. ISMA reports that the snowmobiling industry hugely outperformed US economic growth economy over the last 14 years. The total annual economic impact of snowmobiling increased by 84% to $875 million up from $476 million. Snowmobilers report over 90% satisfaction with the service and quality they find on their snowmobile vacations, measured by the snowmobile trails and access to restaurants, fuel and overall fun! Typical snowmobiling trips last two days and enthusiasts take an average of 8 trips a year.
The touring options from Northern Outdoors are a "Snowmobilers Paradise", according to Supertrax International, with a variety of riding from steep technical trails to the peak of Coburn Mountain, to wide open cruisers and plenty of scenic spots including the spectacular frozen horseshow falls on the Dead River at Grand Falls. Snowmobilers won't run out of options either, with over 150 miles in The Forks Area Network connecting directly to Maine's famous 13,000+ miles of ITS trails statewide.
"Our western Maine location in the Bigelow Mountains range and along the drainage of two major rivers, the Kennebec and the Dead, bring together the right conditions for snowfall, temperatures, and terrain that give us incredibly diverse touring routes." says Russell Walters, President of Northern Outdoors. "Riders appreciate the Northern Outdoors investment in two state of the art Terra Tucker groomers, who go out nightly in peak season to groom 150 miles of The Forks Area network of trails to nothing short of perfection. After all, the groomers are riders, too!
Winter is not over, and Northern Outdoors makes it affordable and convenient to get away in March with all trailside cabins and resort lodging discounted by 20% for the rest of the season. March is historically the snowiest month of the season in western Maine. All great news for snowmobilers!
Northern Outdoors is Maine's Premier Adventure Resort and winner of Yankee Magazine's 2011 Best New England Adventures Award. Established in 1976, Northern Outdoors offers year-round affordable, Maine adventure vacations and is the first and most experienced rafting adventure company in Maine. Winter season activities include snowmobiling, summer season activities include whitewater rafting, river floats, hiking, ATV trails, and fishing. Year round lodging options include rustic to luxury cabins and riverside camping. The resort includes the Kennebec River Brewery, featured on the Maine Beer Trail. Northern Outdoors is located 4 hours from Boston, 2 hours from Portland, Maine and 3 hours south of Quebec City, Canada on Route 201, The Old Canada Road National Scenic Byway. http://www.northernoutdoors.com