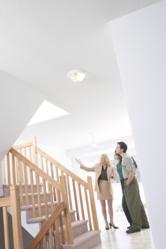 Northridge, CA (PRWEB) March 02, 2013
Northridge real estate is a changing and volatile market. Experienced real estate professionals like the team members at Red Blue Realty know that with many Northridge homes for sale, it's important to make a property look as large and appealing as possible.
A Northridge real estate agent must present homes as attractively as possible to encourage buyers, and one of the most attractive features of any property is size. Naturally, home sellers won't be likely to build additions to a property to increase size, so the key to making a property look larger is through more simple modifications to the look of a home .
Tip One - Increase the flow
Make rooms more open by eliminating excessive amounts of furniture. One way to do this is by installing a floor to ceiling shelving system rather than having multiple lower frame book shelves. Stash children's toys, conceal pet crates or litter boxes. Remove as many trinkets as possible - bare space on shelves and in cabinets makes a room look larger. Simple objects such as clear vases or one or two photos can remain, but for the most part, art objects and souvenirs should be boxed for the coming move.
Tip Two - Mirror That
Mirrors create an illusion - an illusion of reflected, greater space. They make a room seem to have more depth. They also brighten a room, reflecting light. Placing mirrors at opposite ends of a room will create an even greater sense of space and light.
Tip Three - Lighten Up
Repaint dark walls. Dark paint always makes a room look smaller. Light shades from white and cream to pale blues, yellows and greens open up walls and make space look larger.
Eliminating dark or heavy drapes with detailed designs will also brighten a room and increase the illusion of space. Simple, sheer or light drapes or window blinds or shades will expand the size of a room as well as letting in a lot more light. Natural light always opens up the feeling of a room. Darker spaces feel more closed in.
Tip Four: Furnish Skinny
The less overstuffed chairs, couches and pillows a home has, the more open and uncluttered the feel. An experienced Northridge real estate agent such as a Red Blue Realty team member knows that the slimmer and sleeker the furnishings, the bigger a room looks.
Hanging paintings or other art on a far wall will also make a room look larger by causing the eye to be drawn to a farther space and enhancing the expansion of a viewer's depth of field.
Eliminate throw rugs and door mats inside the home as well. A smooth unbroken line of floor or carpet is best to create a feeling of expansiveness.
Regardless of the techniques a seller employees, enhancing the size-appeal of a home will also enhance the number of offers and how quickly a property sells.
Website: http://www.redbluerealty.com
Email: Contact(at)redbluerealty(dot)com
Phone Number: 1-(855) 66-RBREALTY or 1-(855) 667-2732