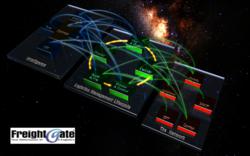 With Freightgate's Rate & Contract Management, we have a solution that will contribute to our growth and success at North Star.
Edina, MN and Huntington Beach, CA (PRWEB) March 27, 2013
North Star Container LLC., a leading global logistics and transportation management company, specializing in the agricultural sector, announced today that the company selected Freightgate's Rate and Contract management solution for its services.
North Star has migrated all of its ocean freight contracts into Freightgate's easy-to-use Logistics Cloud Platform. North Star employees and customers are able to see the optimal service and price options that best meet their needs. Freightgate's Rate Management Solution allows North Star users to search rates; generate & email quotes; monitor rate - quote activity and statistics on their own dashboard. North Star plans to implement other modes as part of a strategic rollout of 'best in class' solutions.
Dorinda Linscheid, Business Development Director, said, "Freightgate and North Star evaluated our business processes and we were able to select the best customized solution and services for our needs that will improve our delivery of services. We've looked at other systems and found they could not match the breadth of functionality available from Freightgate. Another factor that made the choice easy was the domain expertise of Freightgate staff that readily grasped North Star needs and were able to provide options. North Star required the ability to provide timely rates and quotes to its customers. With Freightgate's Rate and Contract Management we have a solution that will contribute to our growth and success at North Star."
Gary Chisamore, Freightgate, VP of Business Development, said, "North Star had a clear strategy in mind that had to be developed, adopted and implemented to support the future needs of their customers. I was impressed with their clear vision and decisiveness of what they needed to do, support and provide to take North Star to the next level and beyond."
Partner with Freightgate. To schedule a No-Obligation Demonstration of Freightgate's Rate Management Solution, please complete form at: http://www.freightgate.com/demo or Call Freightgate Sales at (714) 799-2833 .
To learn more about the depth of service that North Star Container LLC offers, visit website http://www.nscontainer.com or Call North Star at (952) 746-2876
About North Star Container LLC
North Star is the premier provider of transportation services specializing in the agricultural sector but working with a vast amount of different commodities. Our staff has over 20 years of experience and is willing to help with any import or export needs. At North Star Container, no customer is too big or too small. Our customer service staff will provide you with the best solutions for your specific shipping needs. From soybeans, tractor parts to medical accessories, we can make sure your product reaches its destination with care and quality assurance. Visit North Star at http://www.nscontainer.com
About Freightgate
Based in Huntington Beach, California, the Freightgate team has been developing Internet solutions for the freight and logistics since 1994, such as its industry-leading Logistics Cloud Platform, offering Supply Chain Collaboration & Visibility; TMS, Global Tender Bid Management; Least Cost Routing, Service Contract and Quote Management; Regulatory Compliance CBP and FMC; Automated eInvoice Audit and Payment; innovative What-If-Scenario Analysis tool; interactive online Sailing Schedule. Freightgate is ISO 9001:2008 certified. Visit Freightgate website: http://www.freightgate.com