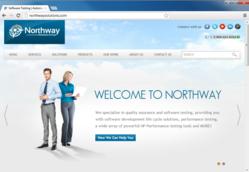 One of our 2012 goals was to finish the year poised for significant 2013 growth, and this is a great stage
Nashville, TN (PRWEB) November 01, 2012
Northway Solutions Group, a firm specializing in quality assurance and software testing, announced this week that it has launched a new website. The site features a simplistic design and provides users with a variety of helpful resources, including a blog. With multiple posts from performance testing veterans, the Northway Solutions blog has become a popular destination for thousands seeking advice and tips on Loadrunner, ALM, mobile and performance testing and more.
"One of our 2012 goals was to finish the year poised for significant 2013 growth, and this is a great stage. Our company culture reflects excellence, and we wanted to launch a website that made that clear," states Scott Moore, CEO.
Site design was performed by U!Creative, based in Dayton, Ohio, with final touches and testing implemented by the Northway team.
Northway has continued to increase their web and social presence heading into 2013, and the results are evident. "We continue to use our digital presence to cultivate new relationships. Through analytics and social connections, we have a more accurate pulse on marketplace needs. When we roll out new services, we believe our web presence allows us a little more leverage than our competition," says Prashant Satoskar, VP of Services.
Learn more about Northway Solutions Group by visiting their new website - http://www.NorthwaySolutions.com or follow them on Twitter.
About Northway
NSG is a technology solutions provider that provides consulting services around HP's IT Performance Suite of products. As an HP Elite/Specialist software partner, we specialize in the sales, implementation, education and support of HP's Application Lifecycle Management (ALM) platform, which includes Quality Center, Unified Functional Testing, Performance Center, LoadRunner, and Service Virtualization. Northway employs only the most qualified, certified consultants and instructors. With real-world experience, they can provide long-term solutions to the toughest business challenges.