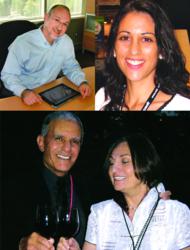 We continue to be a modern, innovative company in-part because we are multi-generational, and in-part as a result of the great team of hospitality people who make up NORTHWIND.
Markham, ON (PRWEB) April 10, 2013
NORTHWIND, provider of Maestro™ Enterprise Property Management hotel software and reservation software solutions celebrates 35 years of supplying independent operators with all-in-one technology solutions that improve revenue, profitability, and staff productivity. NORTHWIND is the industry's leading systems provider for independent hotels, resorts, and multi-property groups. Click here to learn more about Maestro's solutions for profitability and productivity.
NORTHWIND Maestro's consistent innovations drive productivity and revenue
"In 1978 NORTHWIND opened its doors as a custom software developer, and we continue to innovate in a spirit of broadly applicable software with personalization to meet the unique requirements of each of our hundreds of clients," said Warren Dehan, President of NORTHWIND-Maestro PMS. "We initially provided RISC-based systems to a large North American luxury chain. We launched Maestro after that, then transitioned to Windows and other platforms, and later carried users past the Y2K challenge. Today, our clients have burgeoning requirements and we are expanding with them into the 21st Century. We truly understand the independent hotel industry and how to develop effective systems; this is an important combination. We now offer 21 modules that are fully integrated within Maestro PMS which creates a seamless operating, marketing, and data collection platform. This all-in-one system solution enables operators to improve operating efficiency, drive greater revenue, increase staff productivity, and personalize guest service."
Dehan noted that NORTHWIND's stability comes from being financially responsible and having a personal commitment in each client's success. Jacob and Nora Dehan founded NORTHWIND in 1978. Warren and his sister, Audrey, oversee operations today. Warren's son and daughter are also involved in the company and a majority of key employees have been there for over 15 years. "Our very first hotel client is still a Maestro user and they have never had to repurchase new system software. Over the years, NORTHWIND provided all upgrades within the scope of their original maintenance agreement," Dehan said.
"NORTHWIND's team really cares and has always been there to help us"
NORTHWIND's first resort client was Bayview Wildwood Resort in Ontario, Canada. "In the early 1980s our family believed that computerization was the future of successful hotel operations," said Dianne (Stanton) Hounsome, General Manager of Bayview Wildwood Resort. "NORTHWIND was the only company that would work with us to create a hotel system to help us run our business as we wanted. Our original NORTHWIND system was on an IBM RISC computer the size of a dishwasher that had 40mb of disk. To this day, we call the same support phone number if we have questions. It has never changed, and NORTHWIND's team has always been there to help us."
"We have seen many PMS software companies come and go during our 35 year history, and I attribute our longevity to our forward thinking and can-do attitude," Dehan said. "We continue to be a modern, innovative company in-part because we are multi-generational, and in-part as a result of the great team of hospitality people who make up NORTHWIND. Our combined years of hospitality experience and fresh outlook on what affects hoteliers today keeps NORTHWIND looking forward to emerging technologies that allow Maestro PMS to keep our users competitive."
NORTHWIND-Maestro works closely with over 965 independent operators to develop new, easy to use, functionality that lets properties increase revenue, provide unsurpassed guest-centric service and increase efficiency and productivity. Maestro PMS is the PCI-certified hospitality system preferred by the industry's most successful independent single and multi-property hotels, luxury resorts, boutique hotels, conference centers, retreats, non-profits, condominium and timeshare properties. With over 21 integrated modules on a single database, Maestro goes above and beyond PMS by delivering specialized tools and expert services that enable independent operators to maximize revenue and keep guests coming back.
For a demo of the Maestro Property Management Suite featuring the ResWave Booking Engine, please contact NORTHWIND at 1.888.667.8488 or email info(at)maestropms(dot)com.
Exchange ideas and connect with NORTHWIND on Twitter, Facebook, and LinkedIn
Maestro Property Management Solution
Enhance guest service, improve efficiency, and maximize online and offline revenue with Maestro PMS, the industry's most robust and flexible resort software and boutique hotel software solution empowering leading full-service hotels, luxury resorts, multi-property groups, conference centers, condominiums, and timeshare properties. Solutions include Front Office (PMS), Accounts Receivable, Analytics and Business Intelligence, Sales and Catering, Multi-Property Management, Condo & Timeshare Owner Management with Web Functionality, Spa and Activities, Web Booking Engine, Real-Time Yield Management, Dynamic Packaging Golf, CRM, Guest Experience Measurement, CRO, GDS Two-Way XML Connectivity or Integration, Membership, Work Orders, Fine Dining and Retail POS, Online Table Reservations with Web Booking, Concierge, and Guest Experience Measurement. The Maestro PMS is database independent (ODBC Compliant) and may be deployed via Windows, UNIX, Linux, Terminal Services, hosted, and Web platforms.
About NORTHWIND – Maestro PMS
NORTHWIND is recognized in the hospitality industry for its standard-setting Diamond Plus Service and robust integrated Maestro resort hotel software technology. With over 35 years' experience dedicated to developing technology solutions for the hospitality industry, NORTHWIND is a partner who understands you need a scalable, flexible PMS that works the way you do. Maestro applications are engineered for operators who need to manage their enterprise in a real-time environment for the utmost operational efficiency, productivity, control, and profitability.