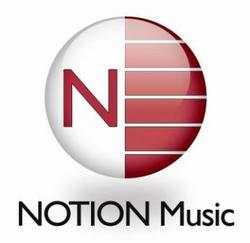 The samples of the London Symphony Orchestra combined with our notation interface for around $200, it's a deal that's pretty hard to beat
Greensboro, NC (Vocus) July 15, 2009
NOTION Music, Inc. (http://www.notionmusic.com)] recently unveiled their own "economic stimulus package" for musicians. In a bold move to expand market share, NOTION Music, Inc. has announced they are reducing the price for NOTION 2.0 , their award-winning music notation software. The new price for NOTION will now typically range from $199 to $249 - about half the price of rivals Finale and Sibelius.
"The samples of the London Symphony Orchestra combined with our notation interface for around $200, it's a deal that's pretty hard to beat," says Jim Boitnott, President of NOTION Music. "This is the first of many announcements we'll be making in the coming weeks that are bound to turn some heads."
NOTION Music first captured the attention of the music industry in 2005 when they introduced their notation software delivered with a built-in orchestral sample library - from the London Symphony Orchestra no less. NOTION enabled musicians to hear their music played back instantly with the sounds of a full symphonic orchestra as opposed to computer generated MIDI sounds. The high-quality sounds, combined with its dynamic tempo control feature has made it a popular accompaniment tool in a variety of live performance settings. NOTION's been used for everything from local theater and touring Broadway productions, to expanding the sounds of the 16-piece orchestra used by rock singer Meatloaf in his Bat Out of Hell Tour. Recently, NOTION was used on a tour in China, providing full orchestral accompaniment for the winners of a prestigious vocal competition.
Describing how it differs from other notation software products, Boitnott concludes, "NOTION's ease-of-use and its quality playback have always been the things that set it apart, but we are not resting on our laurels. The best is definitely yet to come."
About NOTION Music, Inc.
NOTION Music, Inc. (previously known as VirtuosoWorks) is dedicated to the advancement of music through innovative software solutions. NOTION's award-winning software simplifies music composition, notation, and performance with the sounds of world-class musicians. NOTION Music, Inc. is headquartered in Greensboro, North Carolina, with an International office in London, England. Find out more at http://www.notionmusic.com.
Contact:
Brian McConnon
mtech marketing communications
phone: 610.480.8360
# # #