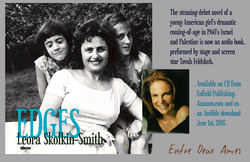 A feverish, sensual, remarkable book.
New York City, NY (PRWEB) November 9, 2007 -
"Edges," a story of a young girl's sexual awakening in 1963 Palestine/Israel, has gone into a third printing. This novel was edited and published by the late Grace Paley for her own imprint at Glad Day Books. Author Leora Skolkin-Smith has written a special Afterword in commemoration to Grace Paley included in this new edition.
"Edges" is a dark and penetrating look at pre-1967 Israel and Palestine through the eyes of a 14-year-old Liana Bialik. After her American father's suicide, Liana's Jerusalem-born mother decides to take Liana and her sister back to her homeland, where her family had lived for four generations. Once they get to Israel Liana, who feels overwhelmed and suffocated by her mother, begins to detach herself from her. She embarks on a mission of self-discovery to learn why her mother does not speak about her father and why he took his own life. Edges is well-written, powerful in both imagery and subject matter..."
--Jewish Book World, Spring 2006
Vol. 24, Number 1
"Where, and how and to whom do we really belong? Skolkin's brilliant debut novel is a hypnotic meditation on the ever-changing boundaries of love and need. A coming of age story of the bond between a young American and her powerful mother, etched in a wartime Mideast as shifting and dangerous and mysterious as the Israeli desert."
--Caroline Leavitt, Columnist, Reviewer, Boston Globe, People Magazine, Author of Girls In Trouble
"With Edges, Leora Skolkin-Smith earns her place among the most gifted of contemporary American authors. The novel is a reminder that works of fiction can offer the depth, color, texture, passion of a fine painting and a great symphony. This is more than a coming-of-age story; it is a powerful and beautifully wrought account of passion and hope...for a girl and for a country."
--Victoria Zackheim, Author, "The Boneweaver" Editor, Anthology "The Other Woman", "For Keeps"
"In Edges Leora Smith skillfully tells the story of a girl of fourteen in the wake of her father's suicide, brought abruptly by her distraught mother from a comfortable suburban Westchester to the harsh terrain of a young State of Israel. The girl is caught in the maelstrom of political claims between Israel and a West Bank, still part of the Kingdom of Jordan. The turmoil both of the girl and her mother is graphically detailed as they struggle to define themselves in the light of a haunted past and present. The poetry of the girl's sexual awakening ripples through many pages, softening the fierce realities of the conflict between Arab and Jew. The pages evoke as well the memories of a shared land, and the mother's childhood growing up in an old Jerusalem before physical barriers separated the city, the religious, cultural, divide between Arab and Jew easier to bridge. The author's vivid sense of landscape, her gift for identifying with both mother and daughter, Arab and Jew, gives the novel a unique sense of balance and brings the reader, regardless of political conviction into sympathy with this portrait of a vanished Jerusalem."
--Mark Mirsky, Author, Editor, Fiction
"Edges is an elegantly written, quite moving novel that has a lot to say about love, identity, history and the meaning of nationality. The book is worth reading alone for its superb language, but it is gripping and unforgettable as well in its story telling and evocation of place and emotions. It is a wonderful novel by an author with a quite accomplished voice and style, one well deserving a wide and receptive audience.
--Oscar Hijuelos, author of the Pulitzer-prize winning novel, "The Mambo King Sings Songs Of Love"
"Edges is an elegant and moving novel. Leora Skolkin-Smith has that rare gift of the writer who can convey the sensibility -- the essence of a place and its people -- with precision and clarity. A provocative debut."
--Katharine Weber, book critic, author of Triangle
"Edges" is a novel told with restraint and poetic precision...memorable (for the) the sense of place that Ms. Skolkin-Smith has achieved -- the sunny and scary Jerusalem and countryside -- and the hope, love, hate and fatalism of the groups, Palestinian and Israeli, living amongst and apart from each other..."
-- Robert Whitcomb, "The Providence Journal"
"A feverish, sensual, remarkable book."
--Meredith Sue Willis
About the Book:
The novel "Edges" is set in a pre-1967 Israel, during the Cold War. Characters are drawn from Israel's long-forgotten past, members of the 1940's Haganah and Jewish underground who find themselves displaced amidst the chaotic and complex tensions of an Israel just beginning to modernize and expand.
"Edges" was nominated for the 2006 PEN/Faulkner Award and The PEN/Ernest Hemingway Award by Grace Paley.
Featured on Connie Martinson's TALKBOOKS
###