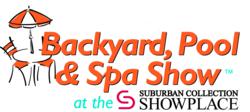 Homeowners will find everything that they need to create a backyard setting perfect for a home vacation
NOVI, Mich. (PRWEB) March 12, 2013
The 18th annual Novi Backyard, Pool & Spa Show will run from Friday, March 22 through Sunday, March 24 at the Suburban Collection Showplace in Novi.
"Homeowners will find everything that they need to create a backyard setting perfect for a home vacation," said Christopher Ferriss, president of Association of Pool & Spa Professionals, Michigan Chapter. "Many of our exhibitors provide maintenance, servicing and refurbishing for existing inground and above ground pools, hot tubs, spas and backyard environments."
Hundreds of ideas, products and services are available from the major outdoor living environment categories on display including inground and above ground pools, hot tubs, spas, swim spas, decks, patios, outdoor living spaces, landscapes, grills, brick paving, decorative concrete, patio furniture and accessories.
Homeowners will find the information they need about building and buying a pool or spa at show exhibits. Experts are available with tips and advice on purchasing, planning, maintenance, safety and landscaping.
"Exhibitors will showcase for backyard living a variety of renewing and improvement options including high-end hard-line gas grills," said Ferriss. "Every weekend should be a vacation in your own home."
Suburban Collection Showplace is located at 46100 Grand River Avenue between Novi and Beck Road in Novi. Show hours are from 3 – 9 p.m. Friday; 11 a.m. – 9 p.m. Saturday and 11 a.m. - 5 p.m. Sunday. Admission is $8; $4 for children 6-14 and children 5 and under admitted free. Discount coupons for $2 off adult admission are available at show's Web site. On site parking is available for a fee. For more information, visit http://www.NoviPoolShow.com or call (734) 398-9700.