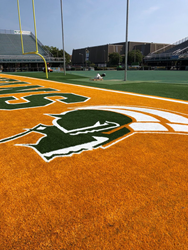 This is a significant project that will improve recruiting, increase revenue opportunities, strengthen the football schedule and enhance the game-day experiences for our students and fans.
NORFOLK, Va. (PRWEB) September 05, 2018
Announced this summer, Norfolk State University decided to replace the natural grass field at William "Dick" Price Stadium with a Shaw Sports Turf synthetic turf just in time for the 2018 season.
Originally installed in 1997, the NSU Spartans have been playing on a natural grass field for quite a while. Like most natural grass fields, maintenance can be a time consuming and costly concern. When the school decided it was time to make some upgrades, they focused on the improvement of the field with the goal of expanding the use and longevity of William "Dick" Price Stadium.
Working together with RAD Sports, who broke ground on the project in late June, Shaw Sports Turf was able to offer NSU a top-of-the-line synthetic turf product known for its durability and high quality attributes. The Spartans look forward to the ability to practice on their stadium field during the season. The university will also be able to host more events year-round without fear of damaging the field.
As part of the turf installation, NSU updated the designs for the end zones as well as the team areas between the 25-yard lines. The college also installed a new drainage system for the stadium in addition to electrical and data conduits underneath the field.
"We are extremely excited to have the opportunity to replace the natural grass playing surface to an artificial turf surface in our football facility, William "Dick" Price Stadium," said Marty L. Miller, NSU Athletic Director. "This is a significant project that will improve recruiting, increase revenue opportunities, strengthen the football schedule and enhance the game-day experiences for our students and fans. The recent updates to the athletics facilities have been critical in positioning Norfolk State University as a major competitor in athletics for years to come," said Miller.
The Shaw Sports Turf product selected for this project was Spike Zone Pro with Envirofill infill. Spike Zone Pro is a hybrid turf product. The slit film and monofilament fibers support the requirements for the ball and athlete to perform well, while a thatch layer adds another level of consistency for each step. This product has a patented design of threading all three turf fibers through one needle meaning each row has the same combination of fibers. This means that there is no streaking on the field and the finished product has a great aesthetic. This combination of fibers allows Shaw Sports Turf to create a surface that plays and performs more consistently than any other manufacturer making a hybrid product.
The turf upgrade project, which costs $1.38 million, was completed before the Spartans opened their 2018 season. NSU's first two games of the year are at home, the Labor Day Classic against Virginia State was played on September 1st and then James Madison will be played on September. 8th.
"RAD Sports put forth a great effort completing this job in such a narrow window. Their efforts along with Norfolk St.'s willingness to improve their facilities will give the Spartans a distinct home field advantage for years to come," said Territory Manager Andrew Barksdale.
ABOUT SHAW SPORTS TURF
A wholly-owned subsidiary of Berkshire Hathaway Inc., Shaw Industries is a full flooring provider to the residential and commercial markets. Shaw supplies carpet, hardwood, laminate, resilient, and tile/ stone flooring products, as well as synthetic turf. Shaw Sports Turf is one of the leading synthetic turf companies in North America and has represented quality and innovation for more than two decades with over 3,000 successful installations, including an impressive list of high-profile field installations. For more information please visit http://www.shawsportsturf.com, call 866-703-4004 or find us on Facebook, Twitter, Instagram and LinkedIn.