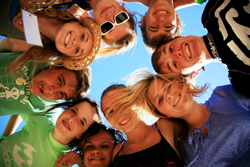 The Lutanda Yarramundi Awareness Program includes an overview of Aboriginal culture, and a study of culture and history of the local Darug tribe
Sydney, Australia (PRWEB) March 20, 2013
The Australian school curriculum, particularly for high schools, continually adapts to the country's changing social environment. Lutanda has been running adventure camps to over 60 years, and has now announced its list of curriculum-based school camps for 2013.
While school camps have become an integral to the Australian education system, finding venues and locations that meet the requirements of diverse areas of the curriculum can be challenging for both teachers and schools.
Lutanda, with its multi-faceted approach to the school camping experience, is now providing venues and activities for a range of education-based programs, including Aboriginal Awareness and Environmental Awareness Programs at the historic Yarramundi site in the Hawkesbury Valley and Young Explorers Program at Mt Victoria. Lutanda's Toukley Centre can also cater for Duke of Endinburgh and Learn to Surf programs. Lutanda can also run educational camps centred around music, community service and sport.
Aboriginal Studies
"The Lutanda Yarramundi Awareness Program includes an overview of Aboriginal culture, and a study of culture and history of the local Darug tribe" said Dom Valastro of Lutanda. "Part of the program includes hands-on activities, like painting and dance, and boomerang and spear throwing."
Discussions on Native Title and contemporary issues are also integral to the Aboriginal Awareness camps.
Music Camps
Each of the Lutanda camp venues at Yarramundi, Toukley and Mount Victoria, all in New South Wales, have the facilities for successful curriculum-based music camps, or for speciality performance groups.
"The schools who base their music camps at Lutanda venues enjoy the flexibility of being able to learn and rehearse in an open air environment, and to perform more formally in our auditoriums" explained Dom.
Duke of Edinburgh Awards
The Duke of Edinburgh Awards scheme is supported by many schools in Australia, and its associated activities can fulfill the assessment requirements of different curriculum subjects.
Lutanda Toukley, located on New South Wales' Central Coast, has been announced by Lutanda as its location for the Duke of Edinburgh Bronze and Silver Awards activities for 2013.
Lutanda Toukley is ideally situated for the overnight treks and skills-based activities that are often chosen as components of the Awards scheme. The proximity to national parks, lakes and beaches, as well as the on-site facilities makes Toukley a popular choice for school camps."
For more information about Lutanda's curriculum-based school camps, visit our latest news post on fun learning activities.
About Lutanda
Lutanda, a not-for-profit interdenominational Christian organisation, has been running fun-filled adventure camps for youth groups, schools and community groups for over 60 years. They have been privileged to provide over 20,000 guests per year exceptional service and unforgettable experiences through its three Centres.
Lutanda's heartbeat is serving the community; school-aged children, youth at risk, those living with disabilities and young people in need. Lutanda has a culture of excellence, providing an ideal environment for children to develop a strong sense of community within a safe and nurturing environment.
Details about Lutanda and its curriculum based school camps are available at Lutanda.com.au