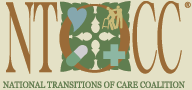 If we fail to continue to promote and utilize proven methods for improving care transitions, patient outcomes will suffer at higher costs to taxpayers. -Cheri Lattimer, NTOCC Executive Director
Washington, DC (PRWEB) March 13, 2013
The National Transitions of Care Coalition (NTOCC) today urged policymakers to reject a precipitous reduction of federal funding that would serve to improve care transitions for patients at the community level and, in doing so, vastly reduce health care spending. The call from NTOCC followed the release of the Senate's proposed "Continuing Resolution" legislation, a package that would continue the funding of the federal government through September but make certain cuts to federal programs. NTOCC is the nation's leading alliance of multidisciplinary health care organizations and stakeholders dedicated to providing solutions that improve the quality of health care through stronger collaboration between providers, patients, and family caregivers.
Cheri Lattimer, NTOCC Executive Director, called on Congress to reject the proposed 40 percent cut to the Community-based Care Transitions Program (CCTP) that was created as part of the Affordable Care Act. The CCTP provides funding for local programs that reduce hospital readmissions and expenses, and improve patient health outcomes by facilitating better transitions of care for patients who move from one care setting to another.
"As many families, caregivers and patients themselves know," said Lattimer, "those who require care — particularly the elderly and individuals with chronic illnesses— face significant challenges when moving from the hospital to home, from a care facility to the hospital, or between other care settings." She added, "Poor transitions of care mean medication errors, duplicative tests and other mistakes that frequently cause hospital readmissions, raise costs of care, and diminish the quality of patient outcomes." Lattimer noted that the CCTP is a critical resource for advancing improved transitions, and that reductions to program funding pose grave threats to important and cost-effective improvements – those initiatives that are occurring, and more that are needed – aimed at patient transitions and related care. "If we fail to continue to promote and utilize proven methods for improving care transitions, patient outcomes will suffer at higher costs to taxpayers," she said.
On Monday, bipartisan leaders of the Senate Appropriations Committee released their proposed Continuing Resolution, which strips $200 million from the $500 million that had been appropriated for the life of the CCTP. NTOCC leaders urge the Senate and Committee leaders to strip the provision from the final Continuing Resolution.
###
About the National Transition of Care Coalition
The National Transitions of Care Coalition is a 501(c)(4) dedicated to addressing a serious U.S. health care issue: filling the gaps that occur when patients leave one care setting and move to another care setting. These transitions include patients moving from primary care to specialty physicians; moving or transferring patients from the emergency department to intensive care or surgery; or when patients are discharged from the hospital to home, assisted living arrangements, or skilled nursing facilities. The U.S. health care system often fails to meet the needs of patients during these transitions because care is rushed and responsibility is fragmented, with little communication across care settings and multiple providers.