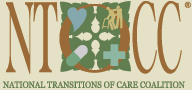 The Medicare Transitional Care Act puts in place the necessary infrastructure to foster care transition interventions that have proven successful..." -Cheri Lattimer, RN, BSN, NTOCC Executive Director
Washington, DC (PRWEB) September 17, 2012
On Friday, Representatives Earl Blumenauer (D-OR), Thomas Petri (R-WI), Allyson Schwartz (D-PA) and Jan Schakowsky (D-IL) introduced the bipartisan Medicare Transitional Care Act of 2012, legislation that seeks to improve transitions of care for Medicare beneficiaries at highest risk for readmission as they move from the hospital setting to their home, skilled nursing facility or next point of care. The National Transitions of Care Coalition (NTOCC) believes the bill is an important step forward to improving patient outcomes and reducing unnecessary health-related expenses.
The Medicare Transitional Care Act establishes a specific payment for coordination activities that would ensure that beneficiaries and providers receive the support they need during transitions from the hospital. Payment for these services would be linked to performance metrics to ensure that interventions result in improved outcomes, which will ultimately lead to long-term economic benefits for Medicare.
"The Affordable Care Act made significant progress in improving the coordination of care in our health care system, but still gaps remain to promoting the type of team based, coordinated care that is critical to quality transitions of care," said NTOCC's Executive Director Cheri Lattimer, "The Medicare Transitional Care Act puts in place the necessary infrastructure to foster care transition interventions that have proven successful, which will lead to better health outcomes for patients and offer real cost savings for patients, the health care system and taxpayers."
The legislation incorporates many of NTOCC's principles, such as aligning the transitional service requirements with NTOCC's "Seven Essential Intervention Categories"—seven key elements found in evidence-based care interventions— and the integration of all members of the care team in executing effective care transitions.
The U.S. health care system often fails to meet the needs of patients transitioning from one care setting to another. Care is frequently rushed, responsibility is fragmented, and there is often little communication between care settings and multiple providers. These failures create serious patient safety, quality of care, and health outcome concerns.
In addition, poor transitions lead to significant financial burdens for patients, payers, and taxpayers. Unnecessary hospital readmissions are often a result from poor communication during transitions which can lead to inconsistent patient monitoring, medication errors or lack of follow through on referrals. Almost 20 percent of Medicare patients must be readmitted within 30 days of their original release and those readmissions cost Medicare more than $17 billion a year.
The full text of legislation will be available sometime this week on the Library of Congress website. Enter "transitional care act" in the search function to access Bill information.
About the National Transition of Care Coalition
The National Transitions of Care Coalition is a 501(c)(4) dedicated to addressing a serious U.S. health care issue: filling the gaps that occur when patients leave one care setting and move to another care setting. These transitions include patients moving from primary care to specialty physicians; moving or transferring patients from the emergency department to intensive care or surgery; or when patients are discharged from the hospital to home, assisted living arrangements, or skilled nursing facilities. The U.S. health care system often fails to meet the needs of patients during these transitions because care is rushed and responsibility is fragmented, with little communication across care settings and multiple providers.