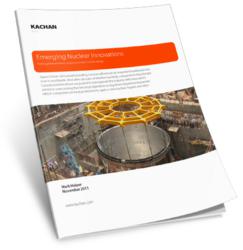 The industry and supply chain around the entrenched trillion-dollar nuclear complex has suppressed better alternatives. That's about to change.
San Francisco, CA (PRWEB) November 21, 2011
Nuclear power has been criticized for being costly and slow to develop, dangerous to operate and for creating weaponizable waste.
But certain companies around the world have been quietly commercializing technologies to address all of these concerns—which could propel wider adoption of nuclear power, even in the face of Japan's Fukushima Daiichi incident, and despite the distance some countries have been putting between themselves and today's nuclear fission plants.
Just don't expect America to lead the way in the adoption of new, safer nuclear technology.
A new 64-page report published today titled Emerging Nuclear Innovations: Picking global winners in a race to reinvent nuclear energy identifies and profiles emerging leaders and commercial opportunities in next generation nuclear innovation today and tomorrow. The report was authored by cleantech research and consulting firm Kachan & Co.
"Whether you consider it clean technology or not, the world needs nuclear energy. Solar and wind can't supply baseload power 24/7," said Dallas Kachan, Managing Partner of Kachan & Co. "The only questions are which type of nuclear technologies will be built, when and where, and why? This report helps investors, large companies and governments understand which new companies and technologies are likely to stand the best chance of adoption."
For the nuclear industry to continue to grow to meet projected power demands beyond 2030, it will have to move away from conventional reactor designs of the type that were damaged in Japan. In a back-to-the-future play, it will adopt technologies first championed decades ago, according to the Kachan analysis.
"As undesirable as plutonium waste is today, it was in demand for the atomic stockpiling of the Cold War, which helped the water-cooled uranium reactor win the day in the 1960s. Since then, the industry and supply chain that grew around this entrenched trillion-dollar complex has suppressed better alternatives. That's about to change," said Kachan.
Some countries, especially China, the Kachan report finds, are marching steadily along a nuclear path paved by radically different, safer, and less expensive reactor technologies than those operating today. Leading developers of advanced nuclear technologies are lining up to trial their systems in China, which is investing more in nuclear innovation than any other country. Regulatory and political hurdles and powerful lobbies in the U.S., by contrast, are expected to hinder the adoption of new, safer and more efficient nuclear breakthroughs.
The report profiles alternative technologies, some of which date back to the 1950s and '60s, when the water-cooled uranium-fuel reactor prevailed. They include a uranium replacement called thorium, as well as a new idea for cladding and housing uranium that boosts its efficiency. The report looks at improvements in conventional light water reactors (LWRs), including boiling water reactors (BWRs) and pressurized water reactors (PWRs), reactor designs including molten salt reactors (MSRs), pebble bed reactors (PBRs), fast neutron reactors (FNRs), gas-cooled and latest approaches to neutronic and aneutronic fusion. It also examines the role of small "modular" reactors, expected to be driven by users like the U.S. military looking for off-grid power sources.
Nuclear innovators face a tough fight against the status quo of large nuclear companies like Areva, Westinghouse and General Electric. But the industry is at an inflection point. Just as Skype and Google eventually upended traditional telecom, media and technology giants, so, too, do innovators have the opportunity to unseat conventional nuclear, according to the report. The Kachan report profiles those with the most potential, after exclusive interviews with executives from organizations such as Flibe Energy, General Atomics, General Fusion, Helion Energy, Hyperion Power, ITER, Lightbridge, NuScale Power, Ottawa Valley Research, QPower, Radix Power and Energy, RARECO, Terra Power, Thor Energy, Thorium One and others.
The report's author is Mark Halper, UK-based contributor to TIME and the Independent on Sunday who has also written for Fortune, the Financial Times, Forbes, the New York Times, Wired and others. He focuses on renewable energy and has written from London, New York, San Francisco, Hong Kong, Tokyo, Singapore, Cairo, Cannes, Berlin, Helsinki and elsewhere.
Kachan & Co.'s Emerging Nuclear Innovations: Picking global winners in a race to reinvent nuclear energy is available from $1295 for a single user license. More information on the report at http://www.kachan.com/research/emerging-nuclear-innovations-report
About Kachan & Co.
Kachan & Co. is a cleantech research and advisory firm with offices in San Francisco, Toronto and Vancouver. The company publishes research on clean technology companies and future trends, offers consulting services to large corporations, governments and cleantech vendors, and connects cleantech companies with investors through its Hello Cleantech™ and Northern Cleantech Showcase™ programs. Kachan staff have been covering, publishing about and helping propel clean technology since 2006.
For more information, or to schedule an interview with Kachan, contact:
Lucia Siplakova, Kachan & Co.
+1-415-390-2080 x6 office
+1-778-855-1674 mobile
lucia(at)kachan(dot)com
# # #