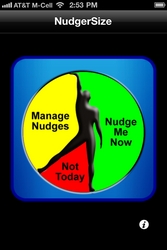 When you see it, you just know it will help people each and every day get more motivated to exercise.
Menomonee Falls, WI (PRWEB) August 30, 2010
Keystone Insights, LLC introduces NudgerSize for the iPhone and iPod touch. NudgerSize is a fun and easy way to combine common sense with scientific research to increase how often and how long people exercise.
Frequent voice reminders to exercise are known to increase the frequency and effectiveness of workouts. NudgerSize brings to the iPhone and iPod touch a simple to use, automated and fun process to make this work. An excellent summary of the research is available online in the May 18, 2010 Wall Street Journal article, "The Power of a Gentle Nudge".
NudgerSize is not an exercise routine program, it is an application to help motivate people to make the time to exercise by allowing the ability to set multiple reminders or "nudges" throughout the week. At the scheduled nudge time the user is presented a pop-up message, alert sound and a recorded voice message of their choice to motivate them to exercise.
"When you see it, you just know it will help people each and every day get more motivated to exercise. Virtually everyone we have spoken with that has an iPhone wants to show their friends" said David Noshay, Co-founder and Managing Director.
Reminders can be friendly, supportive, humorous or aggressive depending upon personal needs. Nudges combine alert sounds with voice messages that can be the application's pre-recorded versions, an individual's own voice, a loved ones, or someone that just scares the heck out of them to get them going. It's completely up to the user.
"We took our time getting the interface right. Within a couple of minutes the user can have their nudges scheduled and start getting value," said William Mortimore, Co-founder and Managing Director.
Key features include the ability to schedule every day, only the days and times you want or let the application nudge you randomly. You can also get a quick nudge anytime you need one. The ability to turn nudges off for the rest of that day with a touch of a button is also available to better meet the needs of busy individuals that can't afford to be interrupted during important meetings.
Simple to use, yet one of the most powerful ways to impact an individual's day-to-day life. For less than one dollar, users become healthier and more fit with NudgerSize by increasing the amount of time spent exercising and "nudging" their size back down to where they want it.
Learn more about NudgerSize at http://www.nudgersize.com or go directly to the Apple App store at http://itunes.com/apps/nudgersize.
About Keystone Insights
Keystone Insights, LLC was founded in 2008 by William Mortimore and David Noshay to develop unique mobile applications and services that improve everyday life for the individual and day-to-day operations for the business professional. Keystone's first product, DocWrite™ offers a powerful iPhone dictation and audio recording system for On-The-Go professionals coupled with an all web based transcription system. Visit http://www.keystoneinsights.com to learn more.
###