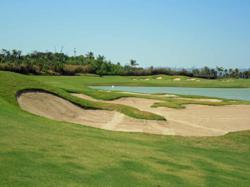 Timeshare weeks are combined with rounds of golf to create complete golf / beach vacation packages
Nuevo Vallarta, Mexico (PRWEB) August 04, 2012
Nicklaus Design recently completed renovation of the Nayar Golf Course, adding an exciting new option for golf in Puerto Vallarta/Nuevo Vallarta.
The Nayar Course offers nearly 6,800 yards of challenging play along picturesque Bandaras Bay, with distant views of the Sierra Madre Mountains. Wide open fairways are forgiving, while numerous lakes and bunkers put accuracy at a premium.
Group and private instruction are available at the onsite Jack Nicklaus Academy of Golf. The large practice range and short game area are open until 10:30 p.m. Instructors use computerized swing analysis as part of their program.
"The oversized putting green and the oversized chipping, pitching and bunker areas provide the opportunity to practice virtually any shot you might come across during a round of golf. The practice areas are complete with a variety of uphill, downhill and sidehill lies. Anyone interested in developing a solid and consistent short game area will not have to go anywhere else.
The Nayar Course is located right at Nuevo Vallarta Mayan Resort, which consists of four timeshare resorts that feature shopping, restaurants and beach activities. MayanRental offers a large inventory of unused timeshare weeks for rent. Timeshare weeks are combined with rounds of golf to create a complete golf/beach vacation packages. Golf packages range in price, depending on the resort selected.
Of the rentals with golf packages, the Grand Mayan is the most cost effective. A huge waterpark area and lazy river make it very popular. Grand Bliss is a little nicer and bigger and guests have access to the Grand Mayan water park. Grand Luxxe offers the most luxurious experience, often including perks like free morning coffee and on personal floor concierge.
Nuevo Vallarta is a small resort community located 15 minutes from the Puerto Vallarta International Airport and about 20-25 minutes from the town of Puerto Vallarta. Puerto Vallarta is a short two hour flight from Phoenix or San Diego. For further information on golf packages at Nuevo Vallarta Mayan resort, contact John or Linda Jameson at 616-855-4468.