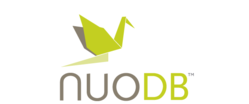 The NuoDB patent represents a clean sheet re-invention of the relational database. -- Jim Starkey, NuoDB CTO and Founder
Cambridge, Massachusetts (PRWEB) August 08, 2012
NuoDB, Inc., a startup company offering the industry's first and only elastically scalable database, today announced their software has been patented by the United States Patent and Trademarks Office (USPTO) in less than half the time allotted for approval of the average patent. The patent was filed on March 18, 2011 and approved July 17, 2012, a span of just 15 months.
Patent number 8224860 was issued for a multi-user, elastic, on-demand, distributed relational database management system. The NuoDB database is fragmented into distributed objects called atoms. Any change to a copy of an atom at one location is replicated to all other locations containing a copy of that atom. Transactional managers operate to satisfy the properties of atomicity, consistency, isolation and durability. This includes the so-called "ACID guarantee," which is the property that is necessary for managing valuable data.
According to a January 2012 article in Fast Company, a leading business publication with an editorial focus on innovation in technology, the average patent approval process is 34 months.
The background
"Database technology has not kept up with database demand," stated Jim Starkey, Founder and CTO of NuoDB. "A single computer, no matter how large, cannot service a modern application. The technologies available to distribute database processing among several computers just pushed the problems back to application developers. Those technologies scaled, but lacked the transactional guarantees that made traditional databases so appealing.
When I started what became NuoDB, the time for variations on existing themes was past. If databases were to scale, a whole new approach was required, one unsaddled by ancient assumptions.
The NuoDB patent represents a clean sheet re-invention of the relational database. The interface is standard, but the underpinnings are so new that there weren't even terms for its concepts. The patent sailed through the patent office with a finding of "no prior art."
Innovation is not an end in itself, but a means to goal. The goal is a database system that scales dynamically almost without limit by adding more machines; a database system that can provide arbitrary redundancy and availability; a database that designed for up-time measured in years or decades."
"We are delighted that Jim Starkey received approval of his patent application so efficiently," stated Barry Morris, NuoDB CEO and Founder. "It is a testament to the uniqueness of Jim's vision that the Patent Office found no other software comparable to ours and thus were able to issue approval so swiftly. We are certain when the product becomes generally available later in 2012, that developers will be impressed by the simplicity, elasticity and reliability of our web-scale offering. It is unique in its ability to solve cloud database problems."
NuoDB Software Availability
The NuoDB software is currently available on Windows, MacOS, and Linux platforms in beta release. It can be downloaded for free at http://www.nuodb.com/download.php.
About NuoDB
NuoDB, Inc. is a Cambridge, MA based startup that provides the industry's first and only elastically scalable database. Unlike every other database, NuoDB is architected to scale effortlessly on the cloud without compromising any of the features or guarantees of relational databases.
Founded in 2010 by industry-renowned database architect and innovator Jim Starkey and enterprise software CEO Barry Morris, the NuoDB database is currently in Beta and will become generally available in late 2012. For more information, visit us at http://www.nuodb.com.