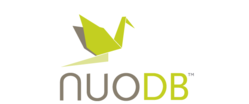 "NuoDB is setting a high bar for cloud databases with their combination of high performance and elastic scalability."
Cambridge, MA (PRWEB) March 14, 2013
NuoDB, Inc., a technology innovator offering the industry's first and only patented, elastically scalable Cloud Data Management System (CDMS), announced performance of 1.84 million transactions per second (TPS) running on 32 machines. Results were obtained using the Yahoo! Cloud Serving Benchmark (YCSB), an open source framework used to characterize suitability for highly distributed, cloud-based applications. The results were obtained with a record-setting 32 virtual machines running on a private cloud.
This benchmark marks a significant advancement from the January 15th, 2013 benchmark that demonstrated the system scaling across 24 machines and delivered 1.09 million TPS using NuoDB Starlings release 1.0.
With NuoDB Starlings release 1.0.1, available as of March 1, 2013, the company has made advancements in performance and scalability and customers can now experience 26% improvement in TPS per machine.
A detailed benchmark report can be found on the NuoDB website.
32 Machines Sets New Scalability Standard and ROI
NuoDB documented the ability to scale across 32 machines, a new standard for elastic scalability. This scalability test included the ability to both scale out and back in effortlessly, reinforcing the elastic nature of the NuoDB solution.
These TPS benchmarks were achieved with the database latency of less than 100 microseconds.
The benefit of truly elastic scalability in the cloud allows businesses to scale rapidly as demand requires while also enjoying the ability to scale back in, thus reducing expense, as demand declines.
Benefits For Cloud Customers
This level of performance provides cloud customers with:

Handle greater data velocity with less effort and less cost in the cloud;
Secure multi-tenancy for hosting multiple isolated databases on the same virtual machine;
The ability to scale elastically and pay for only what they need when they need it.
NuoDB Starlings Release
The NuoDB Starlings release was the solution tested. It features elastic scalability with high performance, SQL compliance and guaranteed ACID transactions. The release, first made generally available on January 15, 2013, eliminates the need for the complex database workarounds that are typically associated with bringing applications to the cloud such as clustering, performance tuning and sharding.
The release is available for free download on the NuoDB website.
Supporting quotes
"NuoDB is setting a high bar for cloud databases with their combination of high performance and elastic scalability," stated Barry Morris, CEO and Co-Founder of NuoDB, Inc.
"The database showed no signs of reaching its scaling capacity across these 32 machines and we literally ran out of hardware to keep testing the system for this benchmark," continued Morris. "These performance characteristics combined with the distributed nature of our CDMS, makes NuoDB the most scalable SQL Database in the Cloud."
Tweet This: @nuodb's #cloud #data management system delivers breakthrough performance and scalability on a private cloud
About NuoDB
NuoDB, Inc., is a Cambridge, MA-based technology innovator that provides the industry's first and only patented, elastically scalable Cloud Data Management System (CDMS). Unlike every other database, NuoDB is architected to scale out effortlessly on the cloud without compromising any of the features or guarantees of relational databases.
NuoDB was launched in 2010 by industry-renowned database architect Jim Starkey and accomplished software CEO Barry Morris. For more information, visit us at http://www.nuodb.com.
###