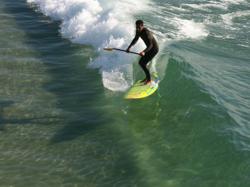 Get Fit for Christmas on the Beach!
Perth, Western Australia (PRWEB) December 07, 2012
Getting fit for Christmas on a treadmill is not a concept most people are used to. Most people think of eating too much and putting on weight over Christmas, but here in Australia everyone is getting fit for a Christmas on the beach. Here are some of the popular ways to keep fit without the expense of going to the local gym.
Treadmills
The use of a treadmill is a great way to keep fit without having to leave to comfort of home. A slow walk, followed by a ten minute run, could be all that is needed to keep good fitness levels up. Don't forget that a warm-up is always necessary to make sure the muscles are ready for the workout.
Home Gyms
A great way to help get fit is to invest in a decent home gym. Sometimes gym memberships can be too expensive or they can even be inconvenient. By having a home gym, workout times are a lot more flexible. They can fit in and around a family meal, or a night at the cinema.
Beginning a fitness regime can be difficult. By investing in some workout clothes, sweat towels, home gym equipment and a treadmill, people find they will be more inclined to start exercising to avoid seeing all the money they have spent go to waste.
Dumbbells
To protect the less durable stabilizer muscles, do the more intense exercises that focus on the larger muscle groups first. That means when people are weight lifting they should begin with the dumbbells, proceed to the barbells and then move to the machines. This prevents them from exhausting the smaller muscles before the workout is complete.
A great fitness tip is to follow a set order when working out. First, use dumbbells. Then, use barbells. Finally, use machines. Use this order because dumbbells focus on the smaller, stabilizer muscles that fatigue faster than the larger muscles. Once the smaller muscles are exhausted, move on to the machines to hit the larger muscle groups.
Elliptical Trainer
Invest in the correct equipment. Whether it's a good pair of running or walking shoes, the correct size weights, a great yoga mat or elliptical trainer, buy something that is durable and works properly.
Whatever fitness routine is chosen, be sure to include cardio-vascular exercise. Staying heart and lung healthy is extremely important, and a cardio workout will do just that for the body. Try to do 30 minutes of cardio or aerobic exercise at least 3 times a week. This can take the form of running, biking, using a treadmill, elliptical trainer or cross trainers, or swimming. Remember not to overdo it. If shortness of breath is a problem, take a break until the heart rate slows down.
Exercise Bikes
If people are looking for a healthy and natural way to relieve pain, try exercising. Studies show that exercises that increase the heart rate to at least 50% of its maximum are effective in reducing pain perception, even for those with chronic lower back pain. However, it is important to choose a workout routine that will not exacerbate the injured or painful area. One suggestion that is safe for most people is to use an exercise bike.
Rowing Machine
A great piece of exercise equipment to burn calories fast while working the entire body is a rowing machine. It's an all in one machine that works the arms, both the upper and lower back, the muscles in the chest, abdominal muscles and legs. The rowing machine is a great piece of fitness equipment.
Weight Bench
Fitness experts stress the importance of using a weight bench with plenty of padding. A hard weight bench is not only uncomfortable; insufficient padding can cause improper spinal alignment and damage the vertebrae. Pressing the thumb into a weight bench will gauge its padding. If the hard structure of the bench can be felt through the padding, the bench is too hard.
Hopefully, with the information containing here, people will be equipped to maintain or become physically fit! There is so much information on the subject of fitness. Apply the suggestions that fit your lifestyle. Stick to it! Remember, good intentions will not get people into shape! Work for it! The benefits are worth it!
Media Contact: Steve Deane
Company: Nu Studio, SEO Company
REF:NS20121205