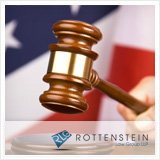 (PRWEB) April 19, 2013
The Rottenstein Law Group is helping to publicize the postponement of the first trials of NuvaRing cases pending in New Jersey Superior Court and the bellwether cases of the NuvaRing multidistrict litigation (MDL) in the U.S. District Court for the Eastern District of Missouri. The firm represent clients with claims for injuries allegedly sustained as a result of the use of NuvaRing and offers a service through which potential clients can reach an attorney through the Nuvaring Legal Information Center.
The first trials of the more than 1,000 NuvaRing cases pending in New Jersey Superior Court, Bergen County (Docket No. BER-L-3081-09 MT), have been postponed until June 17, 2013, a March 5 case management order shows. And the first trials of the cases in the NuvaRing MDL in the U.S. District Court for the Eastern District of Missouri (In re NuvaRing Products Liability Litigation, no. 4:08MD1964), which were originally scheduled to start next month, have been rescheduled for October 2013, according to federal court documents.
NuvaRing is a flexible plastic (ethylene-vinyl acetate copolymer) ring that a woman can insert into her vagina as a birth control device. Over a three-week time period, it releases low doses of progestin and estrogen hormones. Women who use NuvaRing are at increased risk of blood clots related to deep vein thrombosis, according to an FDA report. Blood clots can lead to severe NuvaRing side effects, such as stroke and heart attack.
As a law firm that is representing many of the claimants in the NuvaRing federal multidistrict litigation in Missouri and the New Jersey Mass Tort NuvaRing litigation cases, the Rottenstein Law Group urges women who have suffered injuries that they believe were caused by NuvaRing to consult a personal injury attorney about filing a NuvaRing lawsuit as soon as possible.
The Rottenstein Law Group does not want any woman to be denied her day in court because she took too long to file suit. The firm's NuvaRing Lawsuit Information Center describes all of the issues that NuvaRing victims face and explains their options. (Attorney advertising. Prior results do not guarantee a similar outcome.)
About THE ROTTENSTEIN LAW GROUP
The Rottenstein Law Group is a New York-based law firm that represents clients nationwide in mass tort actions. The firm was founded by Rochelle Rottenstein, who has more than two decades of experience as a lawyer, to represent clients in consumer product injury, mass tort, and class action lawsuits in a compassionate manner.
Contact:
The Rottenstein Law Group, LLP
Rochelle Rottenstein, Esq.
321 W. 44th Street
#804
New York NY 10036
(212) 933-9500 (office phone)
(212) 933-9980 (facsimile)
rochelle(at)rotlaw.com
http://www.rotlaw.com
###