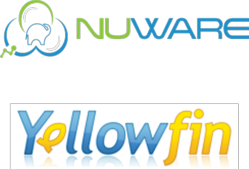 This strategic alliance with NuWare would assist Yellowfin to expand its presence in key geographic markets - Glen Rabie, CEO Yellowfin
Santa Clara, CA (PRWEB) March 26, 2013
NuWare Technology Corp., a leading provider of Mobility, Big Data Analytics, and Cloud Infrastructure Management solutions to Life Sciences, Capital Markets, and Retail industries has forged a strategic alliance with Yellowfin, a global Business Intelligence Software firm.
The agreement will see NuWare make Yellowfin's easy-to-use BI solution, and associated training and implementation services, available to its broad range of corporate and government customers worldwide.
VP Solution Marketing & Innovation at NuWare, Sona Shyam, said that Yellowfin's consumer-oriented BI solution would enable NuWare's current and future clients to make widespread self-service BI deployments a reality.
"Yellowfin's highly intuitive and visual BI platform makes BI very consumable, while its unique collaborative capabilities enable business users to easily turn data-based insights into real action," said Shyam. "The modern BI challenges of our clients mean that they're now seeking software solutions that are innovative, user-friendly and cost effective compared to traditional offerings. Yellowfin is addressing that demand."
Sona Shyam's comments were echoed by NuWare's Sr. Vice President Sales & Customer Success, Neel Mukerji.
"Yellowfin's BI technology has responded to the fact that BI is becoming an increasingly business owned and driven initiative," said Mukerji. "More organizations want more of their business decision-makers to be able to use analytics to take smarter action in shorter timeframes – waiting for IT support isn't an option anymore. With Yellowfin, NuWare is well positioned to take advantage of that trend."
Yellowfin CEO, Glen Rabie, said that the strategic alliance would assist Yellowfin to expand its presence in key geographic markets.
"Increasing Yellowfin's visibility and marketplace penetration throughout crucial regions, such as North America and Asia-Pacific, is an ongoing priority," said Rabie. "We're confident that NuWare's deep understanding of the global BI market will enable them to help grow Yellowfin's reputation and meet growing demand for user-friendly, consumer-oriented BI."
NuWare is a leading provider of Mobility, Big Data Analytics, and Cloud Infrastructure Management solutions to Life Sciences, Capital Markets, and CPG & Retail industries.
About NuWare Technology Corp
NuWare is a leader in Cloud based Solutions, Infrastructure Management, Mobility and Social & Big Data Analytics. Our Innovation accelerates the competitiveness of our clients. NuWare develops solutions and provides professional services for Capital Markets, CPG, Retail, and Life Sciences industry verticals. Our solutions are used by Sales & Marketing, Operations, IT, and Supply Chain professionals for gaining deep insights from their data silos, rapid mobilization of both legacy and SaaS applications, remote infrastructure management, and social analytics. Our technology and services are designed to meet the needs of today's leading organizations. Several organizations in Life Sciences, Capital Markets, and CPG & Retail use our solutions.
NuWare partners with leading and innovative companies such as QlikView, Talend, MongoDB, CouchDB, VeliQ, Cadis, MarkIT, Salesforce, Workday, Hortonworks, Greenplum, Oracle, Amazon AWS, Riak, Cassandra, Actian, Fonemine, Membase, MapR, Tableau, HBase, Datastax, Redis, and Valgenesis.
NuWare has offices in San Francisco, Houston, Chicago, Iselin, Bangalore, and Macau. For more information about NuWare, visit its website at http://www.nuware.com
About Yellowfin
Yellowfin is a global Business Intelligence (BI) software vendor passionate about making BI easy. Yellowfin is headquartered and developed in Melbourne, Australia, offering a highly intuitive 100 percent Web-based reporting and analytics solution. Founded in 2003 in response to the complexity and costs associated with implementing and using traditional BI tools, Yellowfin is a leader in mobile, collaborative and embeddable BI as well as Location Intelligence and data visualization. For more information, visit http://www.yellowfinbi.com
For further media information, interviews, images or product demonstration, please contact:

Samantha Adlard, Public Relations, NuWare Technology Corp. on +1 650.539.4001 or mediarelations(at)nuware(dot)com
Lachlan James, Communications Manager, Yellowfin on +61 3 9090 0454 or lachlan.james(at)yellowfin(dot)bi
For regular updates and news, follow Yellowfin on Twitter (@YellowfinBI), LinkedIn (Yellowfin Business Intelligence) or email pr(at)yellowfin(dot)bi to subscribe to Yellowfin's free e-newsletter.