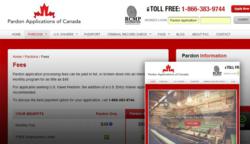 "The vast majority of people with a criminal record are good people who simply made a mistake," says Chris Heringer, CEO of Pardon Applications of Canada."
Toronto, Ontario (PRWEB) March 06, 2013
Most Canadians with a criminal record find out the hard way that repaying their debt to society does not end when they complete their sentences.
Aspects of life that most Canadians take for granted, including finding a job, travelling outside the country or simply volunteering, can be denied those with a criminal record; regardless of the offence and regardless that sentences have been served.
While a number of organizations exist to help criminal record holders get a Canadian Pardon, which effectively seals their criminal records from the public domain, one of them has chosen to set itself apart by publicizing and promoting the process, which is often hindered by the stigma that surrounds it.
"The vast majority of people with a criminal record are good people who simply made a mistake," says Chris Heringer, CEO of Pardon Applications of Canada (PAC). "They have paid their debt and honestly want to reintegrate into everyday life and we want to educate them and make it easier for them to do that."
PAC partnered with leading Toronto web developer nvision solutions to develop a search engine optimization (SEO) program that not only promoted PAC's services on the web, but made it easier for anyone with a criminal record to find the information they need to help return their life to normal.
"It's the first time we mapped out an SEO content strategy exclusively from the customers' perspective," says Faraz Dayvandi, nvision's SEO Specialist. "The main purpose was to market the website is such a way that both PAC's customers and the search engines were happy."
To accomplish both goals, Dayvandi developed strict guidelines specifically for PAC's SEO program:

Each piece of SEO copy had to be at least 300 words to make it more appealing to search engines and easier for the customer to find
We address links are clean and short to avoid confusion
Good use of images to help illustrate the message
Easy to find social media sharing options to spread the word
Solid navigation and internal links so readers can easily find the right information
The website is constantly updated to avoid stale or misleading information
Make sure pages are all professionally written to give readers the practical information that is sorely missing online
"The results have been amazing," says Dayvandi who cites numerous page one rankings for PAC's SEO content after only two months of the program. "Visits to the site more than doubled in January, which was just the second month of the program. It's really exciting for us."
"We've noticed the site visitors are taking the initiative to educate themselves and that makes it easier to take the next step, which is to get the help they need," adds Heringer. "The program has been very successful in a short time and nvision helped us do that."
About Pardon Applications of Canada
Pardon Applications of Canada is a Criminal Pardon (also known as a "Record Suspension") & U.S. Waiver application processing firm that helps thousands of Canadians yearly to clear their criminal record and enjoy travel freedom to the United States. An RCMP Accredited Fingerprinting Agency, PAC uses an innovative processing system to reduce the time and complexity of application processing. Headquartered in Ottawa, PAC maintains offices across Canada.
For more information, please contact:
Chris Heringer
CEO
Pardon Applications of Canada
info(at)pardonapplications(dot)ca
1-866-383-9744
About nvision solutions
From concepts and strategies, to design and implementation, nvision develops premium websites, graphic design and portals for its many local, national and international clients. nvision has assembled a dedicated team of branding experts, creative professionals, copywriters, illustrators, designers, developers and search engine marketing experts to offer complete digital marketing services to its customers.
For more information, please contact:
George Arabian, Faraz Dayvandi
nvision solutions
info(at)nvisionsolutions(dot)ca
1-877-943-2985