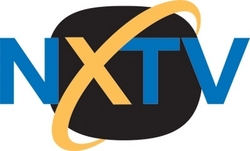 There are two areas we see as very compelling in the NxTV offering: the converging of the Internet experience so the guest has one charge but three entry types of experience - Internet, TV, wired and wireless
Woodland Hills, CA (PRWEB) June 12, 2008
Los Angeles, CA (PRWeb), June 12, 2008 -- NxTV, Inc., completed installation of its High Definition IP Video On Demand (HD IPVOD), TV-on-demand and wired laptop solution at the recently opened, Five-Star new build, 'The Mansion on Peachtree' in Atlanta, Georgia, it was announced today. NxTV is the first and largest provider of IPVoD and interactive digital IP-based in-room entertainment, technology and hotel solutions in the global hospitality industry.
The mixed-use property, managed by Rosewood Hotels and Resorts, is the fifth Rosewood project in five years in which NxTV installed its converged network solution. This will give operators the ability to merge operations, entertainment and communications, and will let consumers blend services between PCs and TVs, and mirror their in-home entertainment systems.
Other Rosewood properties jointly implemented with NxTV include the San Ysidro Ranch in Santa Barbara; California; Rosewood Mayakoba in Riviera Maya, Mexico; and Rosewood Crescent Hotel in Dallas.
"There are two areas we see as very compelling in the NxTV offering: the converging of the Internet experience so the guest has one charge but three entry types of experience - Internet, TV, wired and wireless," said Fred Crespo, Corporate Director of Information Systems with Rosewood Hotels & Resorts. "Also, the quality of high-definition content now available in the lineup is a strong benefit to our guests."
"We are very proud to be working with this prestigious brand. Rosewood Hotels and Resorts has developed an array of impressive properties, and are increasingly looking to converged platforms to streamline hotel operations and enable a superior consumer experience," said Hooman Honary, president and CTO of NxTV,Inc. "The NxTV platform will be at the center of delivering such solutions."
Designed by noted American architect Robert A.M. Stern, The Mansion on Peachtree combines an intimate 127-room ultra-luxury hotel with 45 residences. Towering 42-stories high in the heart of Buckhead - Atlanta's most affluent neighborhood - the property is crafted from classically inspired limestone and cast stone. Each guest of The Mansion on Peachtree enjoys unrivaled luxury, breathtaking views and the personal attention of a staff of expertly trained butlers.
"The NXTV solution is a very good match for The Mansion," added Honary. "Designed to satisfy the entertainment and connectivity needs of the most demanding guests, our platform delivers unparalleled flexibility in its user interface, and the highest quality first run Hollywood movies in both ED (Enhanced Definition) and HD (High Definition)."
Please visit NxTV at the HITEC Show
June 16 - 19, Austin Convention Center
Booth #1223
About Rosewood Hotels and Resorts
Headquartered in Dallas, Texas, Rosewood Hotels & Resorts manages properties worldwide including Rosewood Mansion on Turtle Creek and Rosewood Crescent Hotel in Dallas, The Carlyle in New York, CordeValle in San Martin, California, Inn of the Anasazi in Santa Fe, Las Ventanas al Paraíso in Los Cabos, Mexico, Hotel Seiyo Ginza in Tokyo, Japan, and a triumvirate of world-class Caribbean properties - Rosewood Little Dix Bay on Virgin Gorda, Caneel Bay on St. John and Jumby Bay on Antigua. For more information on Rosewood Hotels & Resorts, please call 888.ROSEWOOD or visit rosewoodhotels.com.
About NxTV, Inc.
NxTV, Inc., based in Los Angeles, California, is on the Inc. 500 list of fastest growing privately held businesses in America. The company is the first and largest IP VOD provider in the global hospitality industry, delivering to its customers IP-based, 100% digital in-room entertainment solutions that allow hotel owners to take full advantage of new technology today and in the future, and offer guests the ultimate on-screen entertainment experience. NxTV's system runs over the hotel's existing converged IP network, which enables the property to communicate with a wide variety of in-room technologies without the cost and effort of installing and maintaining separate networks for each hotel application. The NxTV system delivers a full suite of digital IP-based in-room entertainment services including High Definition Video on Demand (HD VOD) and IPTV Free-to-Guest content, wired and wireless high-speed Internet access, and a customized guest interface. Clients include the world's most prestigious hotel brands, including Four Seasons, Peninsula, Raffles, W Hotels, St. Regis, MGM Grand, Le Meridien, Marriott and Hyatt. NxTV, Inc. has offices and customers in the Americas, Europe and Asia.
CONTACTS:
Hooman Honary
President and CTO
NxTV, Inc.
5700 Canoga Ave., Suite 150
Woodland Hills, California 91367
hhonary(at)nxtv.com
818.227.1225
http://www.nxtv.com
Fred Crespo
Corporate Director of Information Systems
Rosewood Hotels & Resorts
500 Crescent Court, Suite 300
Dallas, TX 75201
Fred.Crespo(at)rosewoodhotels.com
(214) 880.4222
http://www.rosewoodhotels.com
Media Contact:
Julie Keyser-Squires, APR
Softscribe Inc.
julie(at)softscribeinc.com
(404)256-5512
http://www.softscribeinc.com
###