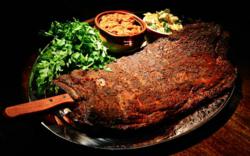 We plan to bring the trophy home this year with the help of our fans!
Norwood, NJ (PRWEB) September 28, 2012
Chili is a spicy stew containing chili peppers, meat, tomatoes, and often beans with the differences in recipes making it a consistent dish featured in competitions known as "cook-offs" being held all over the country. Chili is something that many either love or hate but no one can deny its appeal and especially when a group of highly trained chili specialists come together to compete. The results are usually amazing and this is part of the reason that the city of Pearl River New York and the Special Education PTA is sponsoring its 6th Annual Chili Cook-Off this Saturday at Central Avenue Field.
The Blind Boar, a Norwood New Jersey BBQ restaurant and client of Route 72 Systems understands that in order to help promote their restaurant, winning competitions like these will only help to establish their brand. Chef Justin Manzi is a master of creating creative recipes, keying off of what he learned working alongside the Food Network "Chopped" winner Jay Lippin, who was the head chef for a short period of time at the restaurant. Last year, this knowledge helped them place second at last years event and only drove them to tweak the recipe even more. Mario Rodriguez, head manager of The Blind Boar says, "Chef Justin always seems to impress and we're confident his latest version of chili will knock the socks off attendees!" Votes by all attendees will help determine who will be the winner of the "Chili King of Rockland County" crown.
Marketing team members of Route 72 Systems LLC are all huge fans of chili so being involved in the promotion for this event is a bonus to them. Having over 15 years of experience in the small business sales leads business, it is not difficult for them to create and setup marketing systems that generate highly targeted leads. Restaurant promotion is just one of many disciplines the company has a good deal of experience with.