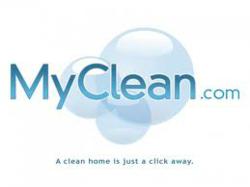 Fast, online scheduling of NYC cleaning services equals one less thing on your to-do list.
New York, NY (PRWEB) March 23, 2012
Looking for a NYC cleaning service but don't have time to schedule a cleaning? You're not alone.
Professional couples in NYC are often short on time, and apartment cleaning is often the last thing on their minds. They work hard all week and have little, if any time to take care of themselves... let alone clean their apartments.
Not surprisingly, studies show that when couples fight, it's often about house cleaning chores. As Spring approaches, the weather gets warmer and the grass turns green... and no one wants to spend their day cooped up in their apartment cleaning. Here is where a cleaning service can greatly improve the quality of life in Manhattan.
However, there are thousands of NYC cleaning service providers and maids, most of which require a phone call to schedule an appointment. With new online scheduling services, MyClean.com has made the process one step faster and more convenient.
Like many other services, MyClean.com offers insured and bonded cleaners. Unlike other services, MyClean.com offers an easy to use online platform and cleaners trained in the MyClean Method, which ensures a consistent, high-quality and cost-effective clean.
"Our company was started to help serve busy young professionals, who want their apartment cleaned but don't have the time or inclination to search for a cleaner," says CEO Michael Scharf. "We want to make the scheduling process as easy as possible. Our clients have better things to do than clean their apartments themselves!"
MyClean.com takes the hassle out of NYC apartment cleaning. No more cash on the mantle, no more handwritten notes. Just use our easy-to-use online booking tool, and MyClean.com will send a cleaning professional, with all necessary equipment (except a vacuum and toilet brush) and environmentally-friendly supplies. While there are thousands of house cleaning services in New York, few can offer the convenience, consistency, and quality of MyClean.com.