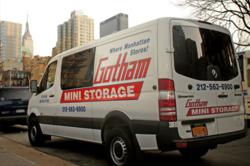 Gotham offers free pickups, not in a minivan like other companies, but a Mercedes-Benz Sprinter minibus.
New York, NY (PRWEB) March 22, 2013
Gotham Mini Storage was recently featured in the New York Times by reporter C. J. Hughes for offering upscale amenities to discriminating Manhattan customers. He writes, "Like other self-storage facilities, Gotham sells cardboard boxes in its ground-floor retail area. Clean gray carpet covers upstairs hallways, which seem a far cry from the dingier spaces portrayed on A&E's popular reality show "Storage Wars" and its spinoffs. To set itself apart, Gotham offers free doughnuts to tenants and dog snacks to their four-legged friends. Tenants can also work on laptops with free Wi-Fi while enjoying music throughout the facility."
Hughes also wrote, "The building, which was a parking garage in the 1920s, has two truck-size elevators that tenants can use to move things directly from vehicle to storage. Gotham offers free pickups, not in a minivan like other companies, but a Mercedes-Benz Sprinter minibus."
Gotham Mini Storage's facility in New York City has wintertime heated and summertime air conditioned interior loading and keeps their "climate controlled" units close to room temperature year round. Customers enjoy custom built units, a full suite of moving supplies, and concierge moving solutions by a team of helpful moving professionals—all designed to take the pain out of moving.
Gotham Mini Storage is focused on adding comfort and amenities not found in your typical storage facility, including a coffee bar, free Wi-Fi, working space, and brand new tech-centric equipment. With customer convenience in mind, they developed the first "drive in" freight elevator in the country where customers can bring vehicles into the elevator and take items directly to their floor. This brand new, state-of-the-art self-storage facility developed by co-owners, Steve Schwartz and Jack Guttman of Broadway Storage did not come without some additional expense to the construction cost, but both felt it was well worth it for making Gotham Mini Storage stand out in a competitive New York storage unit market. "We know we've built a good product," said Mr. Guttman, who said he has been buying and selling self-storage facilities in New York for more than a decade. "It's different, and it's better."
And, that's what residents of the local Greenwich Village, East Village, Chelsea and Hell's Kitchen neighborhoods are looking for in a storage unit facility. Guttman comments, "Today's mini-storage users are demanding more than an industrial warehouse. With an inviting, state-of-the-art management office, newly renovated, extra-large elevators, and hallways that feel more like a living room than a storage building, we're bringing the next generation of storage to Manhattan."
About Gotham Mini Storage:
Located at the corner of 10th Avenue and 39th Street in Manhattan NYC, the new, gleaming self-storage facility is convenient to residents of Manhattan's Hell's Kitchen, Chelsea, and Midtown neighborhoods. Gotham Mini Storage offers 2,000 competitively priced brand new storage units ranging in sizes from 4'x4' lockers through 80'x20' extra-large rooms. Storage units can be adapted with shelves, lights, clothing racks, and extra tall 11-foot ceilings to accommodate each client's special requirements. Aisles throughout are climate controlled, lit with energy efficient lighting, carpeted, and have over 100 security cameras. Customers enjoy free Wi-Fi, coffee bar, modern self-storage facility, and concierge moving solutions by experienced self-storage professionals. More information can be found on gothamministorage.com or by calling 212-931-5731.