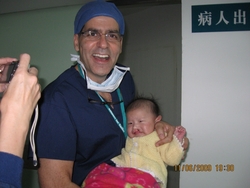 "The personal sense of purpose in being a part of this milestone is indescribable," said Dr. Marc Beshar. "This was a perfect way for me to extend my gratitude to the Chinese people for the gift of my two adopted daughters, who were born in China."
New York, NY (PRWEB) December 30, 2009
Alliance for Smiles recently completed its mission to Wenzhou, China where 134 poor Chinese children with cleft lip/palate were surgically treated for free. During this mission the organization, now completing its fifth year of work, performed its 2000th operation to correct cleft lip/palate.
"The personal sense of purpose in being a part of this milestone is indescribable," said Dr. Marc Beshar, a New York General and Cosmetic Dentist and Dental Director for his first overseas mission. "This was a perfect way for me to extend my gratitude to the Chinese people for the gift of my two adopted daughters, who were born in China."
Cleft lips and palates are anomalies that cause severe facial disfigurement and occur worldwide once in every 850 births. China has been singled out by the organization because one in every 350 babies born in the country is diagnosed with the problem.
"On the mission, one of our patients was a 3-month-old whose name translated as 'Ordinary Girl'," related Dr. Beshar. "She was brought in by a poor couple from the countryside who had just found her while picking through the city garbage in order to survive. We treated her and left the parents in tears of gratitude. The sense of awe and gratitude we all experienced is beyond measure."
In addition to performing corrective surgery, the goal of the Alliance for Smiles team is to facilitate active interchange of ideas and practices through mentoring and lectures with the volunteer doctors as they provide advanced training in reconstructive surgery techniques. During his mission Dr. Beshar taught a group of dentists and students at the Wenzhou Dental University.
Alliance for Smiles, founded in 2004, has completed 18 medical missions and has provided more than 2,100 children with corrective surgery. The cost per patient is valued at $1,000.
In his private practice, Dr. Marc Beshar and his team are committed to supporting their clients' health and wellbeing through the finest general and cosmetic dentistry services anywhere. They deliver general specialist-level care with the comfort of "the family dentist" from his Manhattan office at 41 W. 58th Street.
For additional information on Alliance for Smiles visit http://www.allianceforsmiles.org. For additional information about Dr. Marc Beshar, contact 212-753-2240 or http://www.drbeshar.com.
###