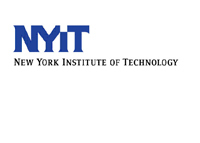 Old Westbury, NY (Vocus) February 5, 2010
New York Institute of Technology (NYIT) presents an exhibition of works by Czech-American designer Erno Fabry from Tuesday, Jan. 26 through Friday, Feb. 26. In addition, decorative arts scholar and curator Donald Albrecht will give a lecture about the exhibition on Thursday, Feb. 11, 6:30 p.m. Both events take place at NYIT's Center Gallery, Education Hall, Old Westbury campus.
The exhibition will feature textiles, furniture, and building designs by Fabry, considered one of the most prolific promoters of European-born modernism in post-World War II America.
Fabry's early designs reflect industrial influences of Germany's Bauhaus of the 1920s. His European architectural designs were influenced by the sleek, unadorned facades espoused by German and French modernists of the 1920s and early 1930s. After immigrating to the United States in 1939, much of Fabry's design sensibility adapted to the more superficial or consumer-committed vision of his employer, American industrial designer Norman Bel Geddes. By the end of World War II, Fabry espoused a more unique and personal design sense that combined Bauhaus simplicity with a northern European interest in natural materials and themes.
The exhibit appears courtesy of the Fabry Family and the Evergreen Museum and Library at Johns Hopkins University, Baltimore, Md. It will be open Monday through Friday, from 10 a.m. to 5 p.m.
For more information, contact curators: Charles Matz at 516.686.7786, or Jennifer Mitchell at 516.686.1280.
About NYIT
NYIT is the college of choice for more than 15,000 students enrolled in more than 90 specialized courses of study leading to undergraduate, graduate, and professional degrees in academic areas such as architecture and design; arts and sciences; education; engineering and computing sciences; health professions; management; and osteopathic medicine. As a private, nonprofit, independent institution of higher learning, NYIT embraces an educational philosophy of career-oriented professional education for all qualified students and supports applications-oriented research to benefit the greater global community. Students attend classes at NYIT's campuses in Manhattan and Long Island, as well as online and in a number of programs throughout the world. To date, more than 81,500 alumni have earned degrees at NYIT. For more information, visit http://www.nyit.edu.
# # #