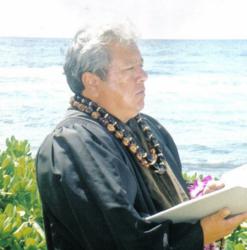 One of our most popular wedding ministers Rev. Jerry is sure to please.

Mark Steffan
Honolulu, HI (PRWEB) May 12, 2013
Maui'd Forever is one of Hawaii's few full service, all-Hawaiian Islands wedding planner and coordinator. Founded in 2003 by entrepreneur Mark Steffan, the company operates on the Hawaiian Islands of Oahu, Maui, Kauai and the Big Island of Hawaii. They use over 150 different wedding vendors and still find the need to add additional members to their team.
They are happy to announce their newest member on the Island of Oahu, Minister Jerry Sulliban. Gerald James Sulliban, usually goes by "Jerry", was born in the Pioneer Mill Sugar Co. hospital on November 18, 1950 and raised in the town of Lahaina, Maui, Hawaii. He is married to the former Joyce Ann Fleischer (from Westport, Connecticut) and they have three daughters, Malea Rose, Larissa Ann, and Kayla Noelani. He was raised as a Roman Catholic and all of his undergraduate education has been in Roman Catholic Schools – Sacred Heart's Grade School, St. Anthony's High School, and St. Martin's College (now University). After graduating from college in 1973, he returned to Lahaina, Maui and worked for the Pioneer Mill Sugar Co., Ltd., as the Warehouse & Purchasing Supervisor, then in 1980 he moved into the Accounting Office and worked as the Accountant. While he worked there, he worked part-time with a co-worker in the construction business after his regular working hours and on weekends. While working with his friend, he had an accident, so in the healing process from his injury he converted to the Baptist faith in 1980, where he and his wife, Joyce, were baptized.
He worked for Pioneer Mill Sugar Co. for 13 years, as a Warehouse & Purchasing Supervisor (6yrs.), then as an Accountant with the same company (7 yrs.). He surrendered to the call of the ministry in 1987. He graduated from the Golden Gate Baptist Theological Seminary in the San Francisco Bay Area with a Master of Divinity degree in 1990. Prior to his return to Hawaii, he worked and did volunteer ministry in Northern California and on his return, went to Kauai and began his work as a full-time minister on Kauai in 1994. When he left Kauai, he was pasturing the Living Water Baptist Fellowship in the town of Kapaa, Hi. While he pastured on Kauai, he did weddings for various wedding companies and resorts. Pastor Jerry did a lot of weddings for the Hyatt Regency Resort & Spa, the Marriott Resort, the Princeville Resort, and the Hanalei Bay Resort, as well as with other independent wedding companies, also on an as needed basis.
In 2007, Pastor Jerry was offered a position in the ministry as the Financial Director for his parent organization the Hawaii Pacific Baptist Convention. Since Pastor Jerry had financial experience with the sugar industry, his services were needed doing his former profession and handling the finances for the Hawaii Pacific Baptist Convention because the person doing it at that time was going to retire. When Pastor Jerry accepted the position, he had to eventually move to Honolulu in order to continue to perform this service. He is still a minister, but now works in a broader field by ministering to the churches and pastors in all of Hawaii and the Pacific Rim (in the financial field, as well as preach the gospel message on an as needed basis).
In 2008, Pastor Jerry finally moved with his wife to Honolulu for good, however, Maui'd Forever expanded their wedding business to include Oahu. By Mark expanding his business to the island of Oahu, he remained in contact with Pastor Jerry. Now Pastor Jerry is performing wedding ceremonies with the Maui'd Forever organization all over the island of Oahu and helping to make the dreams of many wedding couples come true. We are having fun sharing in the happiness of many married couples and couples retaking their marriage vows here on the beautiful island of Oahu – "The Gathering Place" and we will continue to do this as often as the need for us arises.
To reserve Jerry or one of our other Oahu ministers one should look at the Maui'd Forever Oahu wedding minister's web page and then determine which wedding package makes most sense.