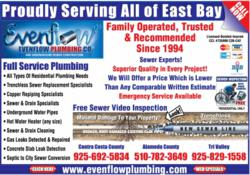 Oakland sewer repair work required by this program will really help the environment
Oakland, California (PRWEB) January 03, 2012
Oakland sewer repair ordinance is going into effect on January 16, 2012. The new Oakland sewer repair ordinance is called the PSL Ordinance, which stands for Private Sewer Line Ordinance. Every year sewage treatment plants spend extra money to treat rain water that leaks into the sewer. Much of the extra rain water comes into the sewer system from private sewer lines meaning the sewer lines from people's homes. The East Bay Municipal Utility District is being required by the EPA to fix old, cracked sanitary sewer pipes to ensure they don't allow the infiltration of rainwater which can overwhelm wastewater treatment facilities, resulting in untreated or partially treated sewage being released into the Bay according to their website. Gary Dimodana, Owner of Evenflow Plumbing in Oakland says, "Oakland sewer repair work required by this program will really help the environment."
Affected property owners will be required to obtain a certificate from EBMUD indicating that their Private Sewer Laterals are without defects and have proper connections to make sure they are not contributing excess water into the treatment system. There are three triggers that will require the sewer inspection so far. The first is the sale of a home. Before a home in Oakland can be sold a compliance certificate from EBMUD will be required. The second is a remodel where the project size is $100,000 or greater and the third is changing your water meter size. It doesn't matter if the meter size is being increased or decreased, a compliance certificate is required in both situations. Many homeowners and people wishing to become homeowners will be affected by this new Oakland sewer repair ordinance.
Oakland sewer repair contractors at Evenflow Plumbing have been providing sewer repair in Oakland California for over 17 years. Currently Evenflow Plumbing is offering a discounted video sewer inspection to help homeowners and realtors get their Private Sewer Lateral Certificate from EBMUD. The video sewer inspection is the only way to see the condition of the sewer line without digging it up. If the inspection process uncovers that your sewer is not in good enough condition to obtain a compliance certificate Evenflow Plumbing of Oakland can repair or replace to sewer line. They offer Oakland sewer repair coupons and discounts in addition to beating any written estimate by at least 10% according to their website. Evenflow Plumbing also has many positive online Oakland sewer repair reviews from trusted sewer repair review websites like Google, Yahoo and Yelp.
Oakland sewer repair being required by the EPA and EBMUD will help our environment by reducing the amount of improperly treated sewage that reaches our water sources according to the EBMUD PSL website. To learn more about Oakland sewer repair visit Evenflow Plumbing's website or watch their videos.
http://maps.google.com/maps/place?hl=en&client=firefox-a&hs=DPD&rls=org.mozilla:en-US:official&prmd=imvns&prmdo=1&bav=on.2,or.r_gc.r_pw.,cf.osb&biw=1366&bih=592&um=1&ie=UTF-8&q=oakland+sewer+repair&fb=1&gl=us&hq=sewer+repair&hnear=0x80857d8b28aaed03:0x71b415d535759367,Oakland,+CA&cid=7240009779554285352&ei=LEMCT5yuNsrfiAKGo9mEDQ&sa=X&oi=local_result&ct=placepage-link&resnum=4&ved=0CFkQ4gkwAw [Evenflow Plumbing Co __title__ ]
360 Grand Ave, Suite 155
Oakland, CA 94610
(510) 562-1363
Please also see the Evenflow Plumbing Oakland sewer repair video.
###