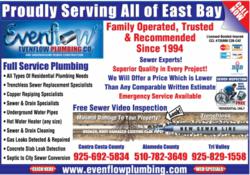 Gary was my guardian angel and our family warrior
Oakland, California (PRWEB) August 26, 2011
Oakland sewer repair contractor Gary Dimodana of Evenflow Plumbing in Oakland, California is much more than a plumber according to Murl of San Leandro. Reported by Dan Von Kaiser. Murl met Gary Dimodana at her home in San Leandro after she had her clogged sewer line cleaned out for the third time in as many weeks. Murl was working with a local San Leandro plumber who suspected there was a major sewer problem and he recommended Evenflow Plumbing of Oakland. "When Gary first arrived my neighbors were standing outside, and one of them mentioned it was too bad that my homeowners insurance wouldn't cover the sewer repair. I have a lot of large beautiful trees in my yard and we assumed the damage was caused by tree roots," says Murl.
Oakland sewer repair contractors at Evenflow Plumbing provide a free video sewer inspection to determine the actual cause of sewer clogs. August is a popular month for sewer replacement. Oakland sewer repair expert Gary Dimodana used his sewer camera to look inside the sewer pipe to find the problem. He discovered that root intrusion was not the problem and that the problem was a broken sewer pipe caused by the water company doing work in the street. Murl said, "Gary told me he has seen situations in the past where 3rd party damage has been covered by a homeowner insurance policy, this was a huge relief because the sewer clog and back up was hindering my recovery process. I can't deal with an emergency like this." Murl is currently battling cancer and is going through chemotherapy. She has been fighting the cancer and staying positive but just suffered a relapse after her initial recovery.
Murl reached out to her insurance company 3 weeks ago to file a claim but was informed over the phone that this type of problem would not be covered by her policy. She tried to explain to the person on the phone that the sewer problem was in the street and not caused by tree roots, but she wasn't heard and was disregarded. "I felt like they were trying to discourage me from filing a claim," said Murl. Gary Dimodana called her last week to check the status of the insurance claim. She explained that she had been told the sewer repair would not be covered and that she hadn't made the claim. "Gary told me that wasn't right and I should fight the insurance company. It sounded like a good idea to make sure I get the coverage I have been paying for the past 38 years. I told him I had just been through a cancer related chemotherapy treatment and I was too tired to deal with the problem and that I had to go," says Murl. Gary asked for permission to communicate directly with the insurance company about her plumbing problem on her behalf before getting off the phone.
Gary Dimodana of Evenflow Plumbing in Oakland was able to successfully advocate for his customer and he was able to work with the insurance company to get the claim paid for the sewer repair this week. Murl exclaims, "Gary was my guardian angel and our family warrior. We don't know what we would have done without him. I was a salon owner for many years and I have met a lot of people. Gary is sincere and really cares, he is a great asset to the community and I know why he is highly recommended." Gary claims he was just doing his job and that he always tries to help people any way he can.
To learn more about Evenflow Plumbing go to http://www.evenflowplumbing.com
Evenflow Plumbing Co
360 Grand Ave
Suite 155
Oakland, CA 94610
(510) 562-1363 ‎
Evenflow Plumbing Co Inc
1647 Willow Pass Rd
Suite 268
Concord, CA 94520
(925) 692-5834
###