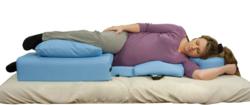 "The SLPS makes positioning my pregnant clients quick and easy, so I can spend my time on the massage and not struggling with pillows and cushions."

Susan Salvo
Owner and Founder, Louisiana Institute of Massage Therapy
New Freedom, PA (PRWEB) June 13, 2011
(PRWEB) 09, June, 2011-- OAKWORKS®, Inc., the premier U.S. manufacturer of spa tables, massage tables, and medical equipment, announces the Side Lying Positioning System, specially designed to stabilize patients in the right or left side lying positions.
Many types of massage and medical procedures require the patient to remain in a precise position that may be difficult or painful to maintain for extended periods of time. This can be especially problematic for women during the later stages of pregnancy, which is why Oakworks asked Carole Osborne and a team of massage therapists specializing in pregnancy massage, to assist in developing the Oakworks Side Lying Positioning System. Osborne, the 2008 AMTA National Teacher of the Year and Author of Pre- and Perinatal Massage Therapy, envisioned a revolutionary new positioning option in which "All the right places- breasts, shoulders, necks, bellies, and hips- are cradled and optimally aligned.", noting that the new bolster set "…makes your work more effective, especially with special populations such as pregnant women, seniors, post-surgical patients, and athletes."
The right or left lateral decubitus (side lying) positions typically allow gravity to pull the limbs downward and out of proper alignment, eventually leading to strain on the patient's ligaments and tendons, but the Oakworks Side Lying Positioning System provides gentle support that isolates the joints in a neutral state, preventing the aches and pains associated with inadequate joint support.
The six piece support system is versatile enough to comfortably accommodate patients of varying shapes and sizes, propping up the head, torso, spine and legs and helping to sustain the optimal posture for a variety of procedures. In addition to the side lying position, this unique set of bolsters can be assembled to create a semi-reclining position of up to 45 degrees, giving a flat table the full functionality of a backrest table.
The included strap can be used to carry the lightweight system, or to attach the bolsters to an existing table, giving the user a wide range of positioning options. All of Oakworks' bolsters are manufactured in America using Aero-Cel padding and PVC free Terra Touch fabric.
Testimonials
"The SLPS makes positioning my pregnant clients quick and easy, so I can spend my time on the massage and not struggling with pillows and cushions."
Susan Salvo
owner and founder, Louisiana Institute of Massage Therapy
author, Massage Therapy: Principles and Practice
co-author, Mosby's pathology for massage therapists
"The Oakworks Side Lying Positioning system is the finest quality bolstering system that I have ever used. The ergonomic engineering of this product is perfect for positioning my clients in a secure manner, assuring them maximum comfort and outstanding support for the head, torso and legs. I have relied on Oakworks massage tables and products for 20 years and the SLP adds another level of professionalism to my Structural Integration and Myofascial Therapy practice."
George Kousaleos
National CEU provider
Core Institute, founder
"Placing clients and patients, in the most comfortable and least stressed position, when administering hands on, therapeutic intervention will magnify the best outcome. The ability to work with people in a side lying position, comfortably, will allow the therapist to explore more therapy options."
Benny Vaughn LMT, ATC, NCTMB, CSCS
Texas Athletic Therapy Center
Fort Worth, Texas USA
"I have been working using sidelying positions for my pre-natal massage therapy practice for over 15 years, using various other positioning systems happily and successfully over that time. The SLP system has now taken a top spot in my office - the dynamics of the system hold the spine beautifully for all body types and the solid design of the leg support cushion doesn't require extra pillowing and support in most situations. My clients love that the torso cushion molds around them and feel comfortable and "cradled" during their treatment - Happy client. Happy therapist. Thank you for this wonderful product."
Linda Hicky
Registered Massage Therapist, Pre and Peri-natal Massage Therapy.
Calgary, Alberta. Canada.
About Oakworks:
OAKWORKS® is the premier manufacturer of spa, massage, and medical equipment with over 30 years of precision manufacturing experience and the best quality control in the industry. Known for design innovation, sophisticated engineering, quick turnaround time, and a unique commitment to U.S. manufacturing and environmental wellness, OAKWORKS® is setting the global standard in the markets it serves.
For more information, please visit http://www.oakworks.com.
Email address: info(at)oakworks(dot)com
Phone: 717.235.6807
# # #