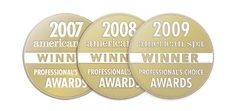 New Freedom, PA (PRWEB) December 8, 2009
Oakworks® Inc., the premier U.S. manufacturer of wellness, spa, massage and medical equipment, was awarded Gold in American Spa Magazine's 2009 Professional's Choice Awards in the Favorite Treatment Table Manufacturer category and Gold in the Favorite Company for Manufacturer Support category. This is the third year in a row winning Gold in the Favorite Treatment Table category.
"We are extremely proud to have received this award three years in a row. Our talented team of engineers, sales professionals, and production staff has all worked very hard to make our products the best in the industry, and once again our customers have affirmed our position as the premier manufacturer." said Jeffrey M. Riach, CEO and Lead Designer.
The American Spa Award is based on criteria such as Best Design Look, Quality of Construction & Materials, Company's Commitment to Service, and Price. Oakworks Spa Products Voted on by the industry's top decision-makers, the Professional's Choice Award has become a standard for recognizing excellence in the spa industry. "Our commitment to excellence is never ending; collaborating with many top spa designers such as Clodagh and top industry leaders allows Oakworks to bring new and innovative products to market. In the past year we have brought many new products to market" said Mr. Riach.
In 2008 Oakworks became a corporate sponsor of the Green Spa Network and continues to be a Global Cooing Partner with Trees for the Future. Oakworks is a certified Forest Stewardship Council facility and has many FSC certified products. Since Oakworks' inception, they have maintained a strong commitment to environmental wellness and manufacturing products in the US. Oakworks' business model relies on ensuring sustainable resources - both natural and workforce-related; their proactive plan addresses both aspects of sustainability to ensure they are doing their part to preserve the health of our planet, while at the same time ensuring the well being of their employees. Learn more about Oakworks' Sustainability Statement at http://www.oakworks.com.
Oakworks, Inc. is the premier manufacturer of spa, massage, wellness, and medical equipment in the U.S. with thirty years of precision manufacturing experience and the best quality control in the industry. With a 92,000 square foot state of the art facility located in Southern Pennsylvania, Oakworks is known for design innovation, sophisticated engineering, and excellent customer service. Offering a unique commitment to U.S. manufacturing and environmental wellness, Oakworks is setting the global standard for medical, spa and massage tables and accessories. For more information, please visit http://www.oakworks.com.
###