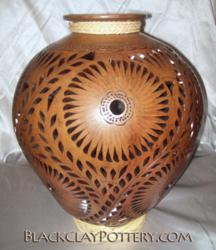 I have never seen such beautiful pottery before. I now use it all over my house!
Sparks, Nevada (PRWEB) March 27, 2013
Eva Mendes is a beautiful movie star having appeared in such movies as "Hitch" and "Stuck On You" and is sought for around the world to promote fashion and beauty products. A recent article about her in the Huffington Post, written by Rain Embuscado revealed a little bit about her and some of the things that she likes. Oaxacan black clay pottery from the Oaxacan connection was also featured in that article in a chart of items that are comparable to her style. It is item number 2 on the chart entitled, "Get Eva Mendes Chic Living Room."
Many interior designers are finding that the unique style of Oaxacan black clay pottery provides a very distinctive look for homes, offices, spas, restaurants and hotels. This unique pottery is purely decorative in nature and cannot be used to hold water or food. It must be used indoors as it will not survive outdoors very long. It is unique in that it must be created by hand and cannot be manufactured in a mass-produced process. But these limitations have created some of the most beautiful pottery in the world.
It seems like everybody's searching for something new, something unique and different for their home or office. Painting a room, changing the wallpaper, adding new furniture and lighting can all make a dramatic difference, but may be expensive. Some people have found that by adding beautiful handmade pottery from the Oaxacan region can be a very inexpensive and effective option. Once a person sees this pottery, it's fun to watch their mind start turning about the unusual characteristics of it.
Many people place a pot, vase or jar made from Oaxacan black clay pottery in the corner of the room, on top of the end table, in a niche shelf or even right in the center of the room to add a bit of ambiance to the room. These beautiful handmade pots, jars, vases, urns and plates exude a spirit of uniqueness and beauty. Adding dried flowers, reeds and leaves creates interesting textures to a room. A contrast of color and surface materials with intricate light and shadow can kick start the mind into a creative process.
As mentioned in the article, "if [someone] would like to re-create Eva's environment at home," they only need to visit the http://www.blackclaypottery.com website to see Oaxacan black clay pottery on display.
The Oaxacan Connection is owned by Blythe and Andy Roberts and is a US distributor of black clay pottery from the Oaxacan region of Southern Mexico. They can be reached through their website at http://www.blackclaypottery.com or by calling them at (832) 275-6348. All pottery can be ordered directly online and shipped via UPS in special shipping boxes and is guaranteed against breakage.