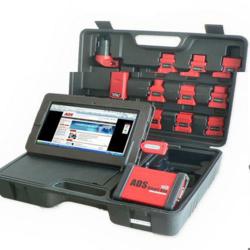 These devices are typically used by mechanics to locate the source of an issue.
San Antonio, Texas (PRWEB) June 26, 2013
Automotive breakdown or imminent parts failures are often diagnosed by trained mechanics. The increases in digital technologies used in the automotive industry have now created easier ways for vehicle owners to diagnose repair issues without hiring a professional. The Auto Pros USA company is now reviewing OBD2 scanner types for vehicle owners online at http://autoprosusa.com/best-obd2-scanner-reviews-auto-scan-tool-diagnostic-code-reader.
These reviews are part of an ongoing series to pick out the top scanners on the market to help save consumers money on auto repairs. This automotive superstore online earned its reputation for selling auto parts to the public.
This new series of reviews is expected to help consumers choose the best OBD II scanner to perform the needed functions of diagnosing automotive issues with import or domestic automobiles.
"There are many brands of scanners made," a source from the Auto Pros company said. All vehicles made after the year 1988 are fitted with on-board diagnostics systems that are able to send code data to a scanning device. These devices are typically used by mechanics to locate the source of an issue.
These diagnostic tests are an added expense for consumers unable to perform DIY testing. "Both basic and advanced scanners offer scanning options to find automotive problems fast," added the source. The new reviews published online are part of a series of new reviews for the most requested auto parts and accessories.
Aside from the OBD II scan tool reviews online, additional auto parts have been recently included inside the company inventory for consumer sale this year. Internal computing components are now available for purchase. These include engine control modules, transmission modules and body modules that are used in most automobiles to control important functions. These parts can be viewed on the company website at http://autoprosusa.com/engine-control-module. The quote system for all parts listed in stock now generates pricing for consumers.
About AutoProsUSA.com
The AutoProsUSA.com company launched its resource online for used automotive parts and accessories at discounted prices. A group of company suppliers in the automotive industry now work closely with company management to provide consumers with better access to warranted parts for sale. A sophisticated website design and intelligent search tools by the AutoProsUSA.com company now make it easier for consumers to connect with suppliers able to fulfill discount parts orders online. The toll-free telephone number system is in place to handle all consumer requests for information or prices offline.