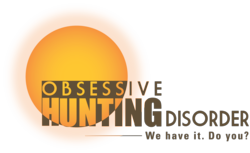 Don't dismiss the importance of scouting and learning about the animals we hunt during the offseason. Especially since almost ¾ of the year is the offseason.
Lake Geneva, WI (PRWEB) March 05, 2013
Duane Keenan, an avid hunter and founder of ObsessiveHuntingDisorder.com, had this to say, "Hunting season is closed, but the preparation never ends. I work on my shooting, both bow and gun. I spend time shed hunting and scouting because with snow on the ground I can learn a lot about my hunting areas. Any animal activity I see gets entered into the web site. The more data that is in the database the more we can collectively learn." Patterning Animals is something that takes place 365 days a year and is not just limited to the hunting seasons.
We also learned that Peak Hunting/Feeding Times also happen 365 days a year and hunters can learn from the nine months that most hunting seasons are closed. "Peak Hunting Times, also referred to as Peak Feeding Times," are based on four periods of the day: when the moon is just starting to rise over the horizon, when the moon is directly overhead, when the moon is just setting below the horizon, and when the moon is directly underfoot, all in relation to an exact location."
Now that the season is over Hunters can run various reports to see what the data they entered and what other hunters enter might mean about the animals they hunt. Duane Keenan made the bold statement that in Southeast Wisconsin he feels that the Whitetail Rut was completely over by the middle of November. He based this statement on the animal activity he entered into the website.
Inclosing Duane Keenan had this to say, "We don't predict the best times to hunt. We help hunters gather the raw data and let hunters decide what data they are most interested in, so that hunters can make their own decisions and predictions."
Here is the raw data that Duane is referring to: six lunar variables (moonrise, moon set, moon transit, moon underfoot, moon phase, moon age), four solar variables (sunrise, sunset, sun transit, photo period), and six weather variables (current temperature, humidity, barometric pressure, forecast, wind, conditions).
ObsessiveHuntingDisorder.com allows a hunter to get that information in less than five seconds. ObsessiveHuntingDisorder.com calculates the information for the hunter's exact location, and can even calculate for days in the past or in the future.
Go to http://www.obsessivehuntingdisorder.com now to get started! If Hunters have notes in a notebook, now is the time to transfer those notes into the database.