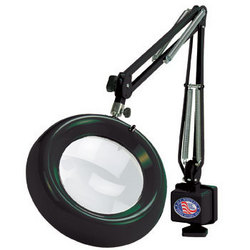 Wilmington, NC (PRWEB) February 5, 2008
All-Spec Industries has announced their O.C. White and Prolite sale on microscopes and illuminated magnifiers.
Items on sale include clamp down magnifiers, video inspection systems, fume extractors, microscopes and more. Sale prices can be found at http://www.all-spec.com by clicking the illuminated magnifier graphic at the top of the homepage.
O.C. White has been around since 1894 and clearly has the right recipe for success which includes superior product design, the newest technology and top-of-the-line craftsmanship with the highest quality materials.
The sale will run now through the end of March.
On sale at All-Spec is O.C. White's TKDPZT-A Pro-Zoom Ultimate Digital Trinocular Microscope. This microscope offers unsurpassed image quality with a user-friendly design. Its ESD safe scope features still image capture as well as streaming video capture with audio voice over. The 1.3 megapixel camera is USB 2.0 powered and connects directly to your computer. In addition to the trinocular microscope mentioned above, All-Spec also has binocular ESD microscopes, Super Scope video inspection systems, as well as Vision Lite magnifiers and Big Eye magnifiers on sale.
Microscopes and illuminated magnifiers sold by All-Spec Industries are not just for electronic production; they can be used in a variety of environments including laboratories, schools, hospitals and medical offices, and can even be used at home for hobbies such as coin collecting.
For more information on the O.C. White and Prolite sale, contact Customer Service or visit http://www.all-spec.com.
Established in 1988, All-Spec Industries carries ESD materials, electronic manufacturing tools, soldering stations and irons, and telecom, field service, and test & measurement equipment. All-Spec Industries normally ships 97% of all in-house stock orders received each day. In some cases, the product will ship directly from the manufacturer or one of our other off-site warehouses.
Contact:
Customer Service
All-Spec Industries
1-800-537-0351
sales @ allspec.com
http://www.all-spec.com
###