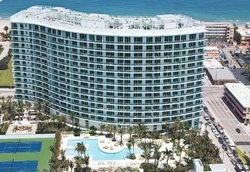 Based on current market conditions, I don't expect anyone will build a new condo/hotel anytime soon, and the vacant parcel will be the main objection the new owner will need to address
Pompano Beach, FL (Vocus) December 8, 2009 -–
"WCI Communities officially sold its last oceanfront tower condo, Oceanside in Pompano Beach, for $36.5 million dollars to a Florida bulk condo buyer," based on public records obtained by Kevin Dickenson, Florida-licensed Realtor with http://www.StealThatCondo.com. Having sold for just a fraction of what the developer paid for the land alone in 2005, some are now speculating that Oceanside is the $36.5 million dollar "deal-of-the-year". The tower's 138 decorator-ready condos sold for $136 per square foot – a steal, priced as much as 83 percent lower than WCI's opening day pricing.
Oceanside Pompano Beach is located at One North Ocean Boulevard, at the heart of the 158-acre Pompano Beach Community Redevelopment Agency (CRA) project. Oceanside was intended to be the area's jewel and WCI lived up to the expectation with its 186-unit Phase One condo tower featuring ultra-luxury appointments typical of a class-A building. WCI never completed the Phase Two tower that was zoned for 303 hotel units, 77 residential condos, a restaurant, spa and retail space on the open lot to the immediate east. "Based on current market conditions, I don't expect anyone will build a new condo/hotel anytime soon, and the vacant parcel will be the main objection the new owner will need to address," Dickenson stated. "Most of the 48 units WCI sold are on the Intracoastal side because buyers were concerned the ocean views would be impeded by the future hotel / condo."
According to public records, Oceanside Pompano Beach closed for $36.5 million and the sale included 138 decorator-ready condo units with 267,933 total square feet on 4.36 acres of land. In a separate transaction for $2.0 million, the buyer acquired 24,448 square feet of commercial space on the first floor of the building and a 3.75-acre vacant parcel of land zoned for a future condo/hotel located directly in front of Oceanside. WCI Communities paid $42.5 million for the land alone in January 2005.
"According to WCI's opening day price sheet dated May 2005, condos were priced as high as $783 per square foot and a bulk sale at $136 per square foot represents an 83 percent reduction," Dickenson stated. "This was a fantastic deal and units should retail quickly at $275 to $300 per square foot," he added.
Click this link to watch a video of Oceanside Pompano Beach.
"This was WCI's third bulk sale in five months and the last oceanfront tower condo WCI had left to sell on the east coast," according to Dickenson. WCI sold the Resort on Singer Island to Urgo Hotels for $7.1 million in October 2009, and One Bal Harbour in Miami for $14.6 million in July 2009. "This type of activity should be a signal to people still asking the question if it's the right time to buy in South Florida," Dickenson added.
Kevin Dickenson and his team at Prudential Florida Realty specialize in Palm Beach real estate and Florida bulk condo sales. For additional information, Kevin can be contacted at 561.262.8243, or visit his website at StealThatCondo.com.
###