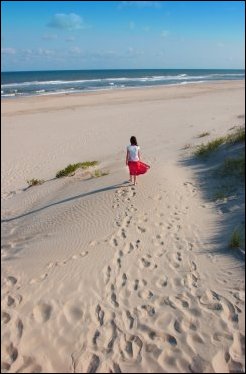 The unmatched beauty of our coast has for decades been a favorite of visitors who truly wish to get away - to relax among the quiet natural shorelines, explore the native wildlife, meet unique people and hear the compelling stories of the Outer Banks.
Raleigh, NC (Vocus) June 9, 2007
Ocracoke Lifeguarded Beach on Ocracoke Island, North Carolina takes the number one spot on Dr. Beach's annual America's Best Beaches list of 2007. The island, embraced by the Cape Hatteras National Seashore on North Carolina's Outer Banks, is known for its clean water, sand and unspoiled natural beauty. At 16 miles long and a half-mile wide, Ocracoke is a sun-swept wilderness, once a favorite haunt of Blackbeard the Pirate and the place where he met his demise.
Today also marks the first time a beach outside of Florida or Hawaii has been named to the top position on Dr. Beach's celebrated annual top-ten list.
"We are proud that Ocracoke Island has been recognized as the home of America's best beach," says North Carolina Gov. Mike Easley. "The unmatched beauty of our coast has for decades been a favorite of visitors who truly wish to get away - to relax among the quiet natural shorelines, explore the native wildlife, meet unique people and hear the compelling stories of the Outer Banks."
Pamlico Sound and the Atlantic Ocean surround Ocracoke Island; it is accessible only by water and air and sits 26 miles from the North Carolina mainland nestled against the Graveyard of the Atlantic (a coastal area famous for the many seagoing vessels that wrecked there years ago because it was difficult to navigate). The island's remote location invites visitors looking for a pristine place to swim, fish, surf and explore. No chain hotels exist on the island.
International beach expert Stephen Leatherman made the #1 designation. Known as "Dr. Beach," he is the nation's foremost authority on beach quality and ratings. He has gained international renown for his annual list of top-ten beaches in America, which he has released since 1991. More than 650 beaches throughout the United States are judged on a list of 50 criteria under four main areas: physical factors such as sand color and quality, and number and size of waves; biological factors such as color and condition of the water; presence of wildlife and pests; and human use and impacts such as lifeguard protection, far-reaching views and traffic.
The natural, untouched beauty of Ocracoke Island's sand, clear sunshine, good waves and clean water caught the attention of Dr. Beach years ago. Visitors have come for the same reasons. In addition, they want to see the Ocracoke Lighthouse, Banker pony herd and reign of Blackbeard:

The Ocracoke Lighthouse--The second-oldest operating lighthouse in the nation. Completed in 1823, she stands 75-feet tall with a 25-foot diameter at the base and a gracefully tapered 12-foot top. The building is solid brick and was used by some residents as shelter during bad storms.
Banker Ponies--In 1565, Sir Richard Grenville's ship Tiger ran aground on Ocracoke Island. Some speculate this may have been the origin of Ocracoke's famous Banker pony herd. The ponies were documented on Ocracoke since European settlers came to stay in the 1730s. In the late 1950s, Ocracoke Boy Scouts cared for the ponies and had the only mounted troop in the nation. By law, the free-roaming animals were penned in 1959 to prevent over-grazing and to safeguard them from traffic after Highway 12 was built in 1957.
Teach's Hole or Channel--In the late 1700s, Blackbeard fought his last battle here. Legend has it his headless body swam around the boat three times before sinking to Davy Jones Locker.
Ocracoke Lifeguarded Beach is part of the Cape Hatteras National Seashore and can be accessed from the Lifeguarded Beach public parking area ¼ mile north of Ramp 70 on N.C. Highway 12 just outside Ocracoke Village. It offers public parking, beach access, restrooms and changing areas. Lifeguards are on staff Memorial Day to Labor Day, 9 a.m. to 6 p.m. The length of lifeguarded beach varies with lifeguard availability. The Park Service recommends that swimmers stay within sight of manned lifeguard stands. Red warning flags are posted at lifeguarded beaches when swimming conditions are hazardous.
There's much more to see and explore around the island, including charter fishing, outstanding bird watching, camping, stories of Civil War and World War II ocean battles and more. Getting to Ocracoke Island is now easier; a new summer ferry schedule began May 22 and will last through Labor Day weekend. There will be four departures from both Swan Quarter on mainland Hyde County and Ocracoke Island versus the two departures that are in effect the remainder of the year. Ferry service is also available from Cedar Island and Hatteras.
Extensive information on Ocracoke Island's attractions, history and accommodations, the Outer Banks, and other North Carolina beaches is available on http://www.VisitNC.com and http://www.VisitNCcoast.com. Dr. Beach's list of top-ten beaches will post to the web site on Friday morning, June 8. Local web sites such as http://www.ocracokevillage.com and http://www.hydecounty.org are also available.
Natural scenic beauty, 300 miles of barrier islands, relaxation, adventure and Southern hospitality come together in North Carolina. Call 1-800-VISIT NC (1-800-847-4862) or go to VisitNC.com to plan your next getaway.
Download Ocracoke images: http://www.visitnc.com/press_room_obx.asp
Press Room: http://www.visitnc.com/press_room.asp
North Carolina Coast: http://www.visitnc.com/where_to_go_coast.asp
Ocracoke Attractions and Lodging: http://www.visitnc.com
For more information:
Susan Dosier
704-953-9408
sdosier @ lkmideas.com
Wit Tuttell
919-219-5874
wit @ visitnc.com
###