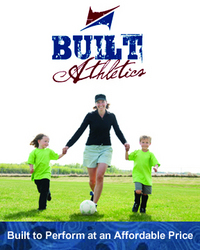 Providing for our children's sports lives has become much like a second job and we have established Built Athletics to ease the process." - Ross Sachs, President
Lancaster, PA (PRWEB) October 7, 2010
The issue: Kids grow, and very fast. How do soccer moms keep them dressed and ready for each sports season without breaking the bank? The solution: http://www.builtathletics.com, a new website that is a one-stop online shop for affordable sports apparel and gear.
"I work part-time, my husband is a busy small business owner who works 24/7 and we have two kids. I try to streamline and organize as much as possible," explains Nashville blogger Jamie Reeves from http://www.BlondeMomBlog.com. "Most moms I know, like me, do not need 'one more errand' to run. We are living in our cars as it is, so being able to shop online for sports apparel would be the solution."
Built Athletics, an athletic apparel company, is excited to announce the launch of their new website http://www.builtathletics.com. Built Athletics is a U.S. based supplier of athletic apparel designed to meet the needs of young athletes as they grow and develop through all sporting seasons.
"We established Built Athletics to support future stars, but more importantly, to support the moms who nurture them," explains Built Athletics President, Ross Sachs. "As parents, we've passed our athletic day and now it's about our kids. They have more options and needs. Providing for our children's sports lives has become much like a second job and we have established Built Athletics to ease the process."
Originally developed for the growing athlete, Built Athletics quickly turned to busy moms with hectic schedules who value quality and affordability in sports apparel for their children. These moms struggle with the high prices of branded sports apparel, the stresses of buying every child new clothes season after season, and the inconvenience of brick and mortar shopping. And most of all, these moms need life to be easier.
These busy moms want to be able to shop at any hour of the day from the convenience of their own home. They value quality and mom-friendly prices that are better than the "roll back prices" and quality that other alternatives offer.
Social media sites Facebook and Twitter have played an important role in giving Built Athletics the opportunity to interact with these mothers. On both Facebook and Twitter, Built Athletics runs contests, promotions and specials, fitness tips, healthy recipes and other engaging activities which serve as a valuable resource for their audience. The company is on Facebook at http://www.facebook.com/BuiltAthletics and on Twitter at http://www.twitter.com/BuiltAthletics.
Future plans for Built Athletics include establishing its own designs and products featuring the Built Athletics branding that represents individuality. The Built Athletics branding will provide opportunities for customers to create their own "Built" life. Built Athletics will continue to serve mothers of young athletes as they grow and develop and will help them with apparel that's quality made, yet affordable.
Built Athletics is a U.S. based supplier of athletic performance apparel dedicated to being a resource for ever-growing families of sports enthusiasts. By providing quality and affordability in their athletic performance apparel, Built Athletics is reshaping the way it is made available. Available at http://www.BuiltAthletics.com
# # #